Traditional Women Royal Wood Print Wall Art Set of 2
Share
Regular price
Rs. 1,499.00
Regular price
Rs. 2,998.00
Sale price
Rs. 1,499.00
Unit price
per
Sale
Sold out
Sale is Live! Pay Now and Save More
👉 Buy 1 item and get 10% OFF! 🤑
👉 Buy 2 items and enjoy 15% OFF! 🤩
👉 Buy 3 items and get a whopping 20% OFF! 😱
👉 But wait, there's more! Buy 4 items or more and receive a massive 25% OFF! 🎁
✨ No Coupon Code Required! 🤗
Introducing the "Traditional Women Royal Wood Print Wall Art Set of 2" – a captivating homage to the grace, beauty, and strength of women through time. This exquisite set of wood prints pays tribute to the timeless elegance and cultural heritage that traditional women embody.
Crafted with meticulous attention to detail, each wood print in this set showcases a high-resolution representation of two distinct traditional women. These images are brought to life with vibrant colors and intricate details, capturing the essence of their attire, expressions, and the stories they tell.
The first print portrays a traditional woman in resplendent attire, embodying the rich history and cultural significance of her heritage. Her demeanor reflects a sense of pride, wisdom, and the strength passed down through generations.
The second print complements the first with another portrayal of a traditional woman, showcasing a different facet of beauty and strength. Her captivating gaze and poised posture speak to the traditions and values that have shaped her identity.
Both wood prints are carefully sized to fit seamlessly into various spaces within your home – from your living room to your hallway or even a personal sanctuary. The natural texture of the wood adds an organic element to the artwork, enhancing the visual appeal and creating a balanced fusion of classic and contemporary aesthetics.
The "Traditional Women Royal Wood Print Wall Art Set of 2" arrives ready to adorn your walls, complete with mounting hardware for effortless installation. The prints' captivating visuals and the wood's warmth combine to create an inviting and inspiring atmosphere within your living space.
Celebrate the cultural richness and timeless beauty of traditional women with this exceptional wood print set. Let these artworks serve as a reminder of the strength, elegance, and heritage that continue to inspire and enrich our lives. Transform your surroundings into a gallery of cultural appreciation and feminine power with the "Traditional Women Royal Wood Print Wall Art Set of 2.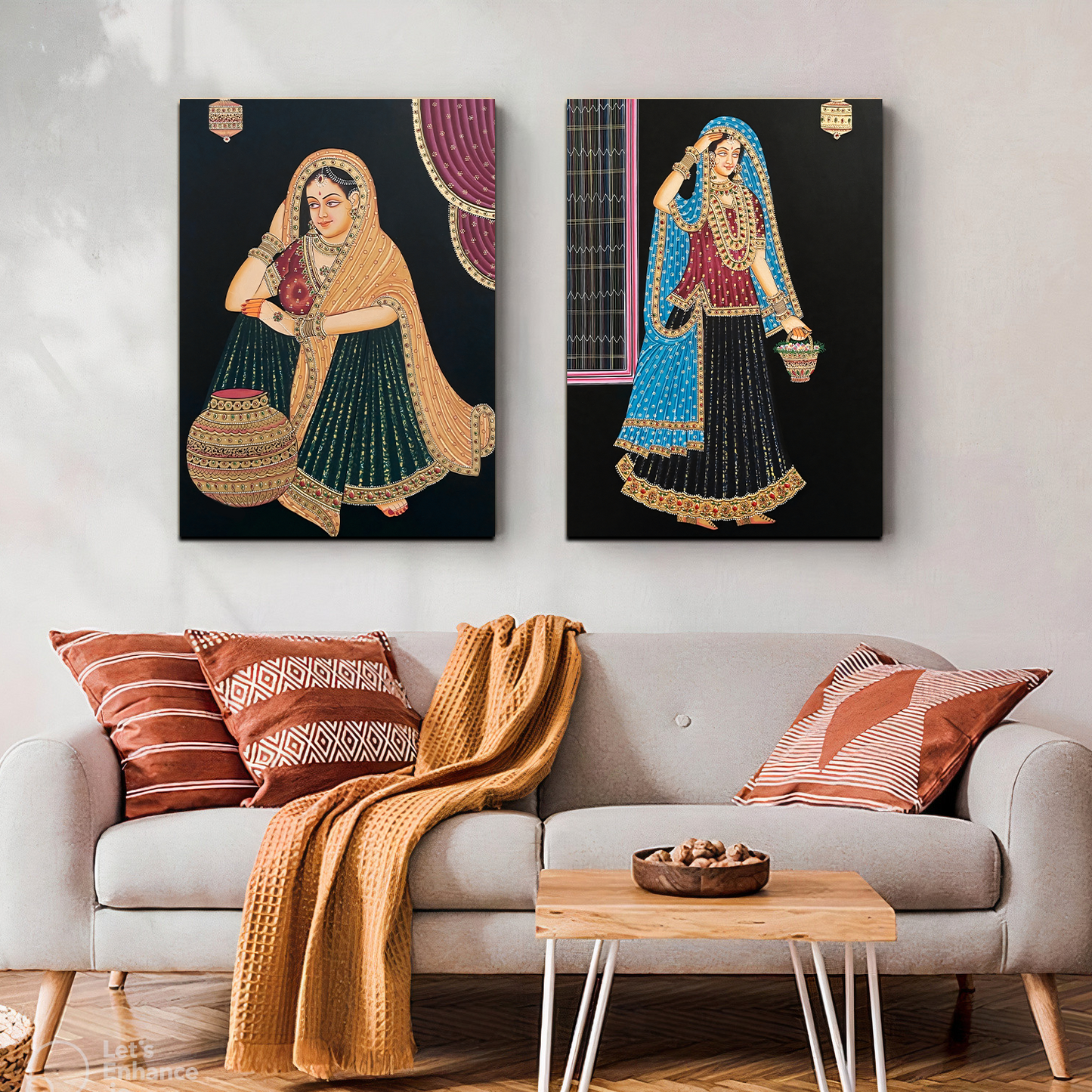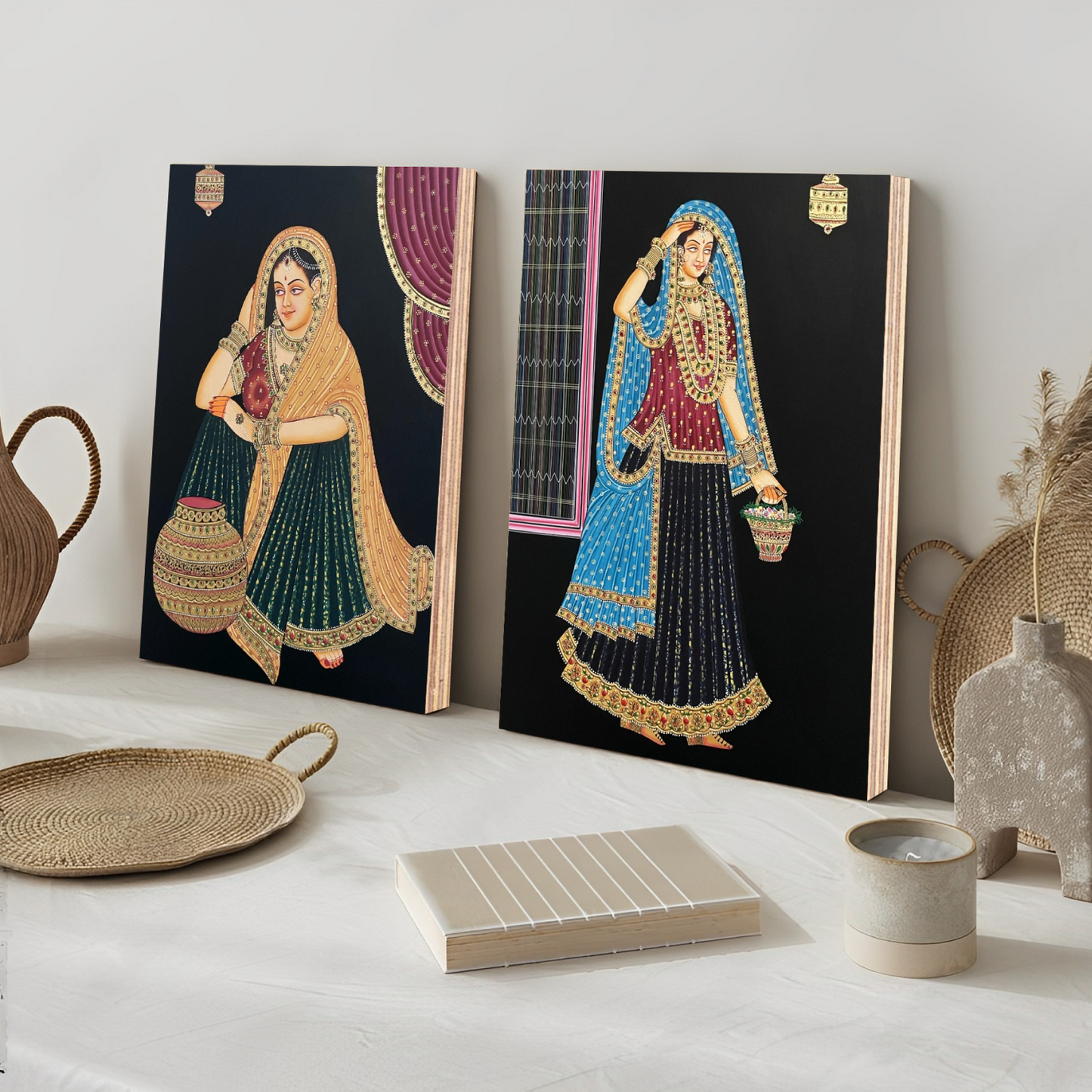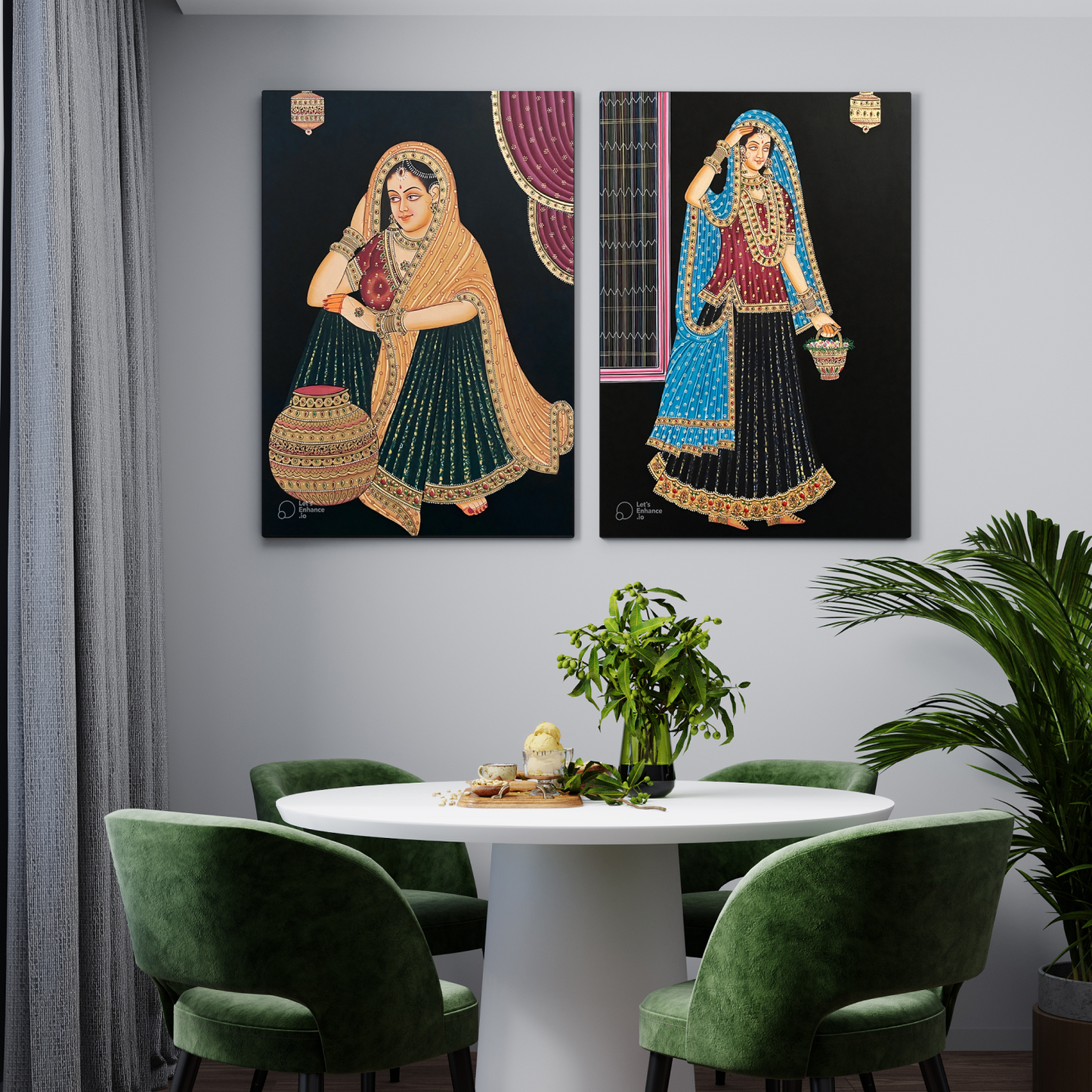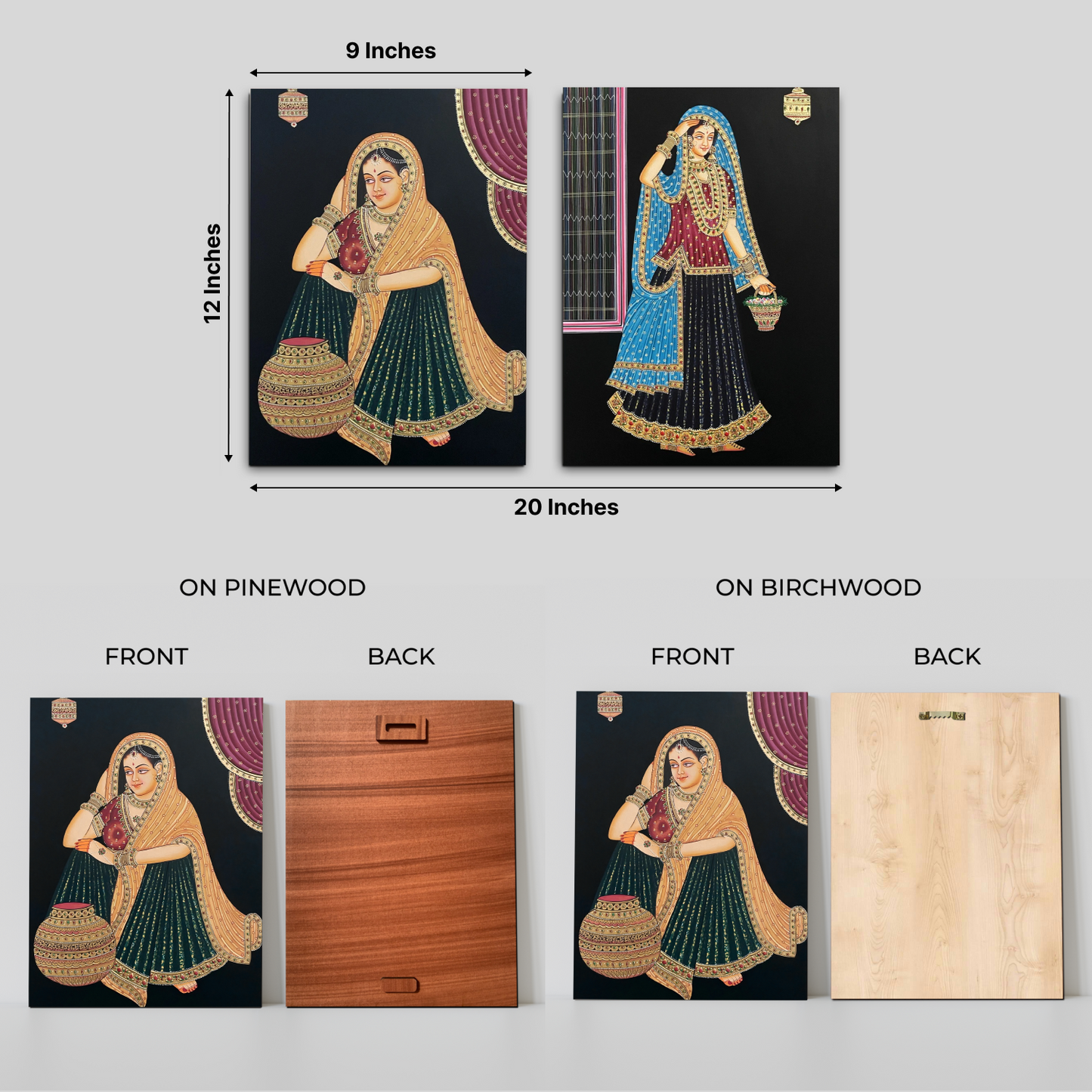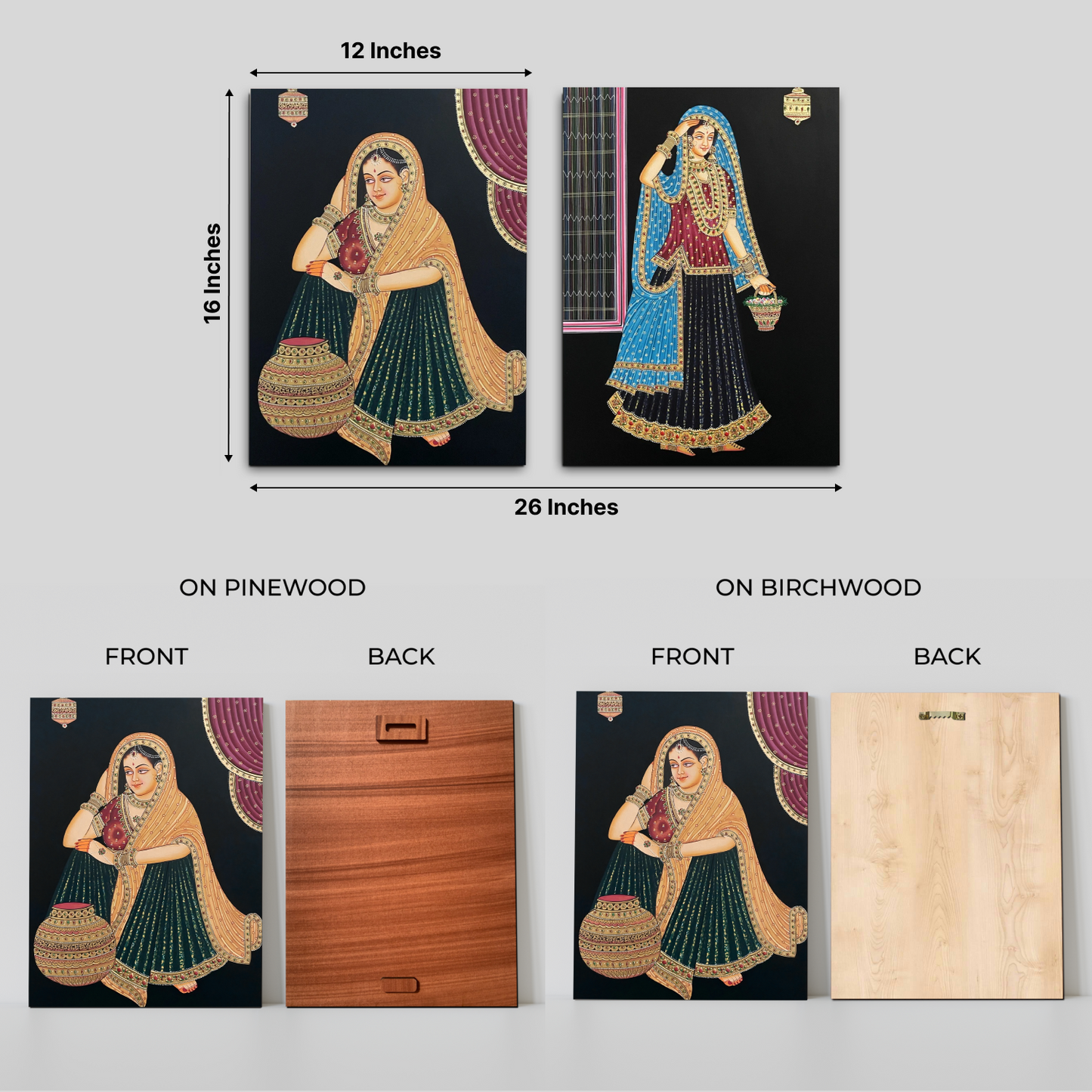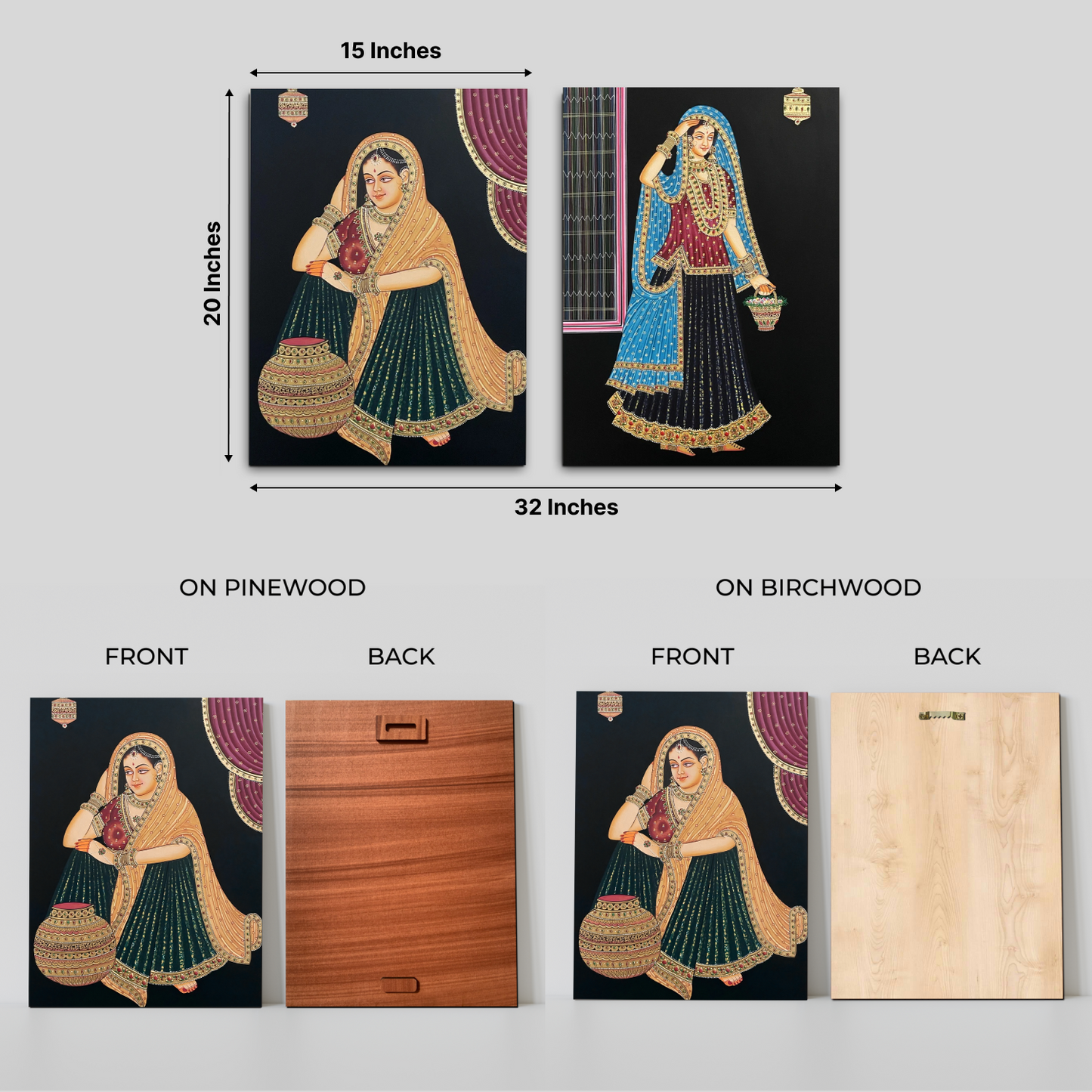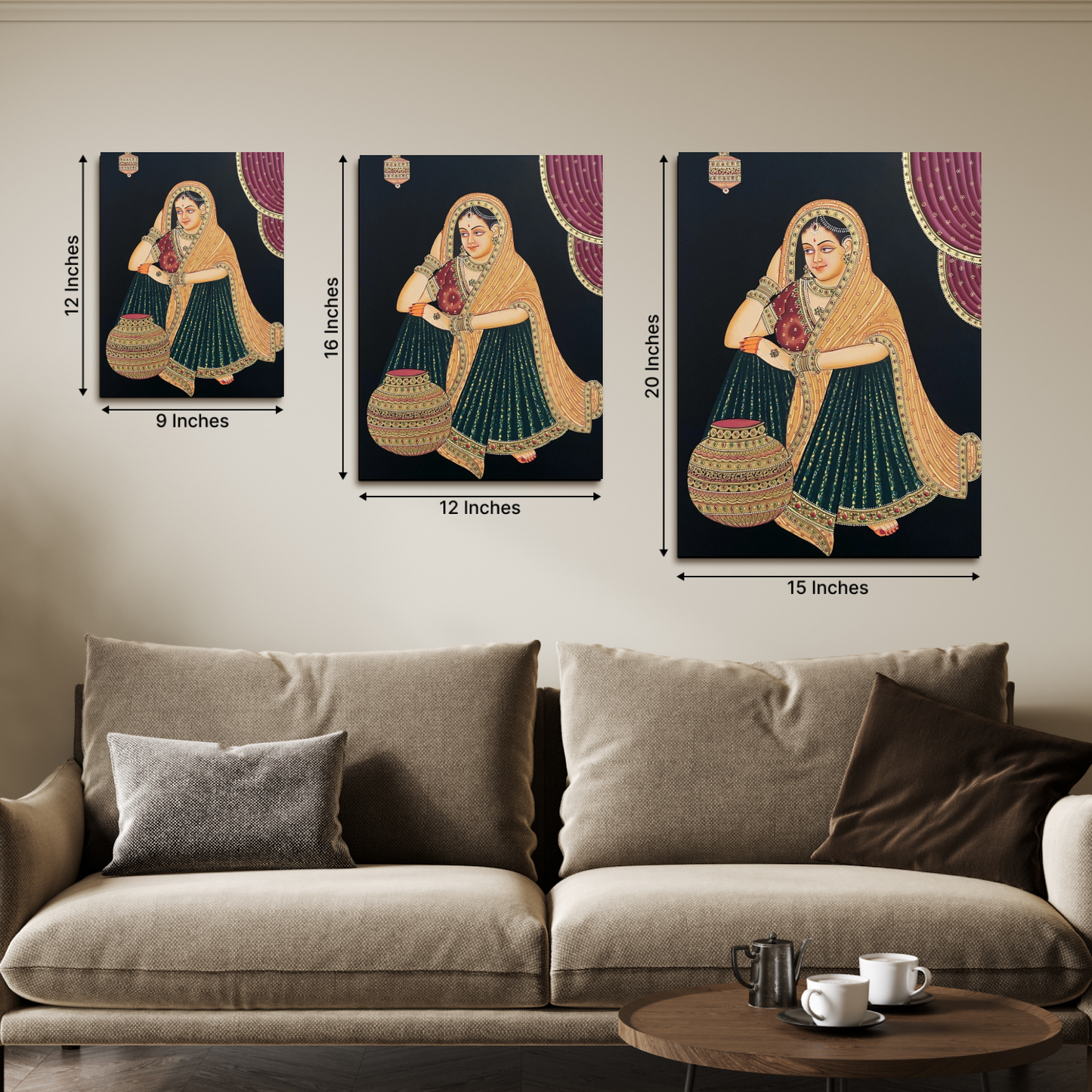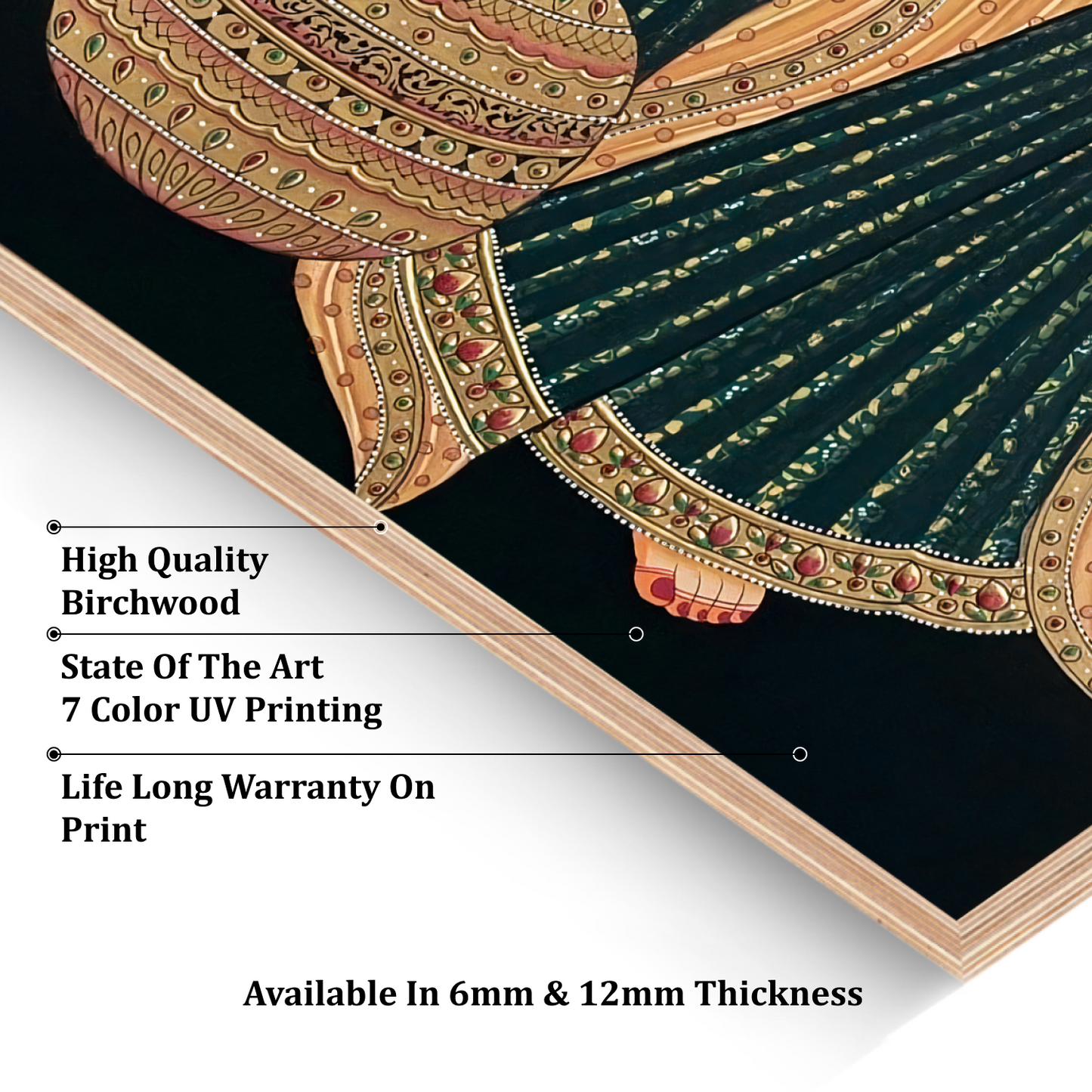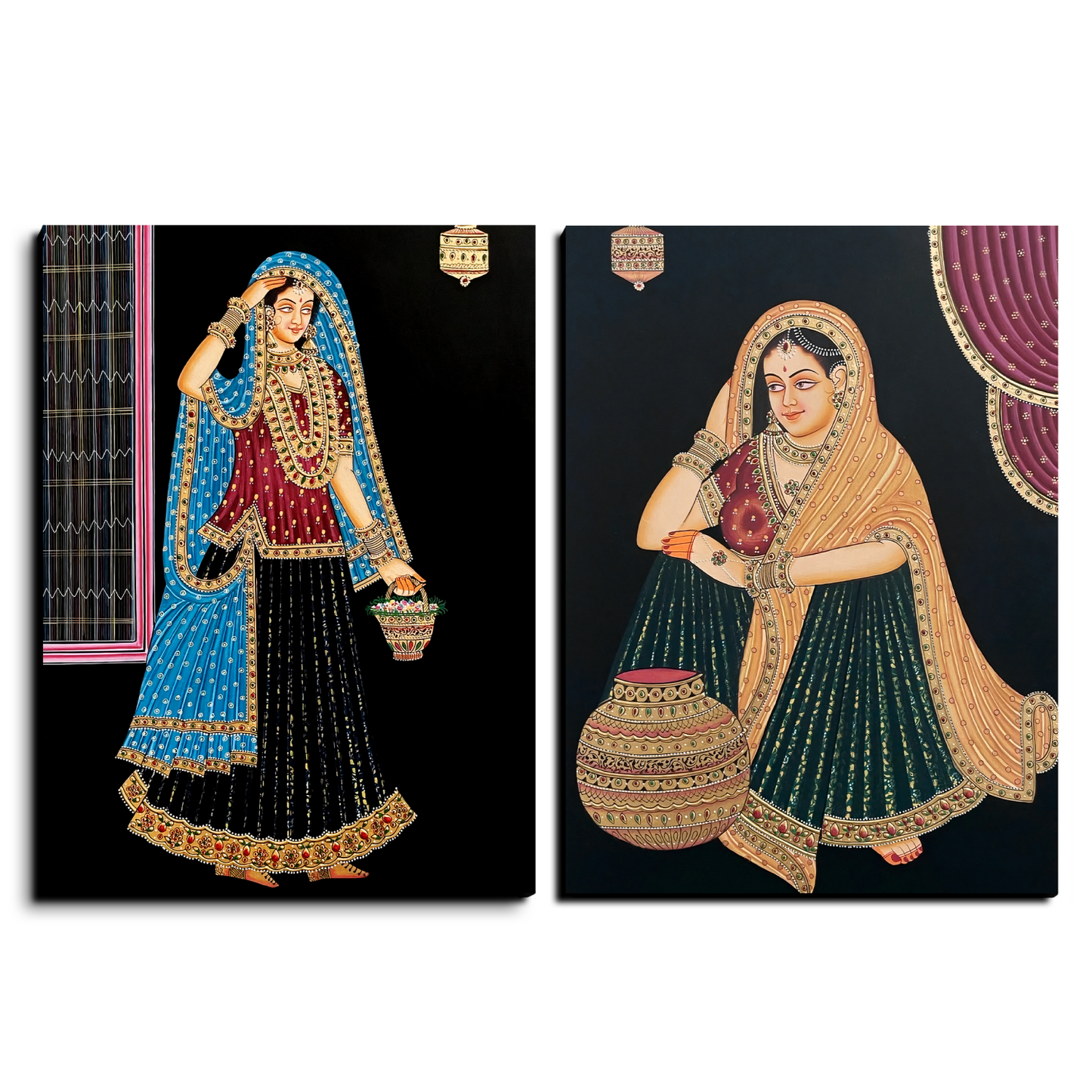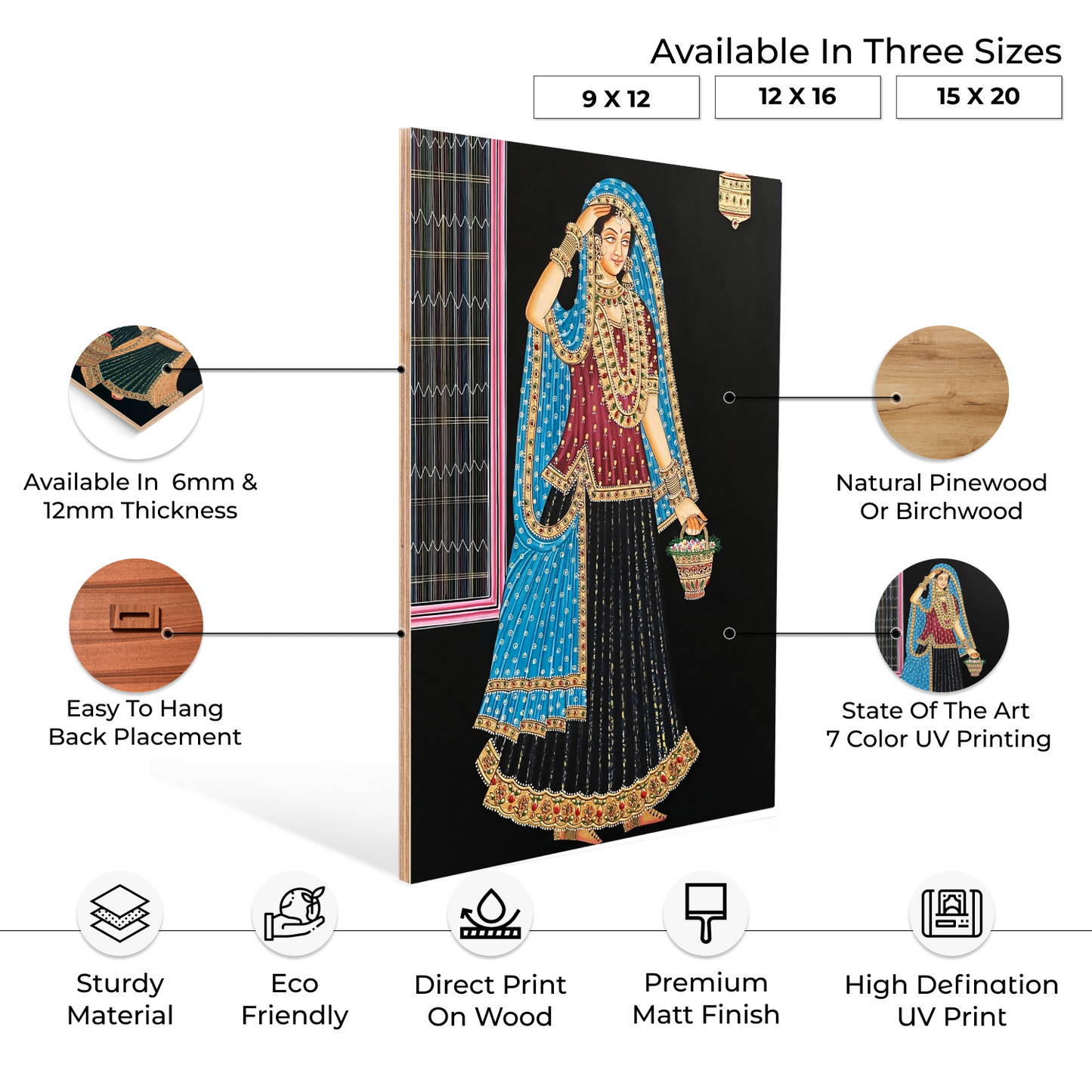 Empowering Women While Creating Unconvincing Arts
Frequently Asked Questions
✨How many days does it take to deliver the product?
We take 3-4 business days to deliver normally, from the day of placing the order, depending on your location.
✨How can I track my order?
Once the order is shipped, we will provide you a tracking link on your email address for you to track the movement of your order.
✨How can I get in touch with customer service if required?
The customer service team is here to help you. You can reach us on WhatsApp at +91 73077 66882. We will address your queries at the earliest.
✨How can I return the product?
A return is eligible in the event that the product is received damaged, which is highly unlikely since the packages go through rigorous checks. In case you do receive damaged/wrong products, please reach out to the customer service team, who will assist you on priority.
✨How can I get a refund on my order?
Refunds are only applicable on pre-paid orders, after your return order has been received and inspected. Once a refund is authorised, the amount will be credited back to your original method of payment within 3-5 days.
✨Do you offer gift wrap?
Yes, We do. After placing the order with us. Please leave a whatsapp message starting with gift wrap request order id XXXXX at +91 73077 66882.
Love We Received From You...