Be Your Own Reason To Smile Wood Print Colorful Wall or Door Hanging
Share
Regular price
Rs. 699.00
Sale price
Rs. 499.00
Unit price
per
Sale
Sold out
Sale is Live! Pay Now and Save More
👉 Buy 1 item and get 10% OFF! 🤑
👉 Buy 2 items and enjoy 15% OFF! 🤩
👉 Buy 3 items and get a whopping 20% OFF! 😱
👉 But wait, there's more! Buy 4 items or more and receive a massive 25% OFF! 🎁
✨ No Coupon Code Required! 🤗
"Be Your Own Reason To Smile" Wood Print Colorful Wall or Door Hanging, a delightful piece that encourages self-love, positivity, and finding happiness from within.
At the center of this artwork is a joyful and uplifting design that exudes positivity. The vibrant colors, ranging from cheerful yellows to soothing blues, create a visually captivating composition. The playful patterns and typography add an element of whimsy and charm. It's a design that radiates happiness and invites you to embrace a positive mindset.
The phrase "Be Your Own Reason To Smile" takes center stage, serving as a powerful reminder to find joy and happiness within yourself. It encourages self-love, self-care, and the understanding that your own happiness is in your hands. It's a beautiful mantra that inspires you to appreciate the little things, find reasons to smile, and embrace the beauty of life.
Our "Be Your Own Reason To Smile" Wood Print Colorful Wall or Door Hanging is perfect for displaying on a wall or a door. Whether you hang it in your bedroom, living room, or office, it creates a vibrant and uplifting ambiance that serves as a daily reminder to choose happiness and find reasons to smile.
Crafted with durability in mind, our wood print hanging is made using high-quality materials and printing techniques. The fade-resistant inks ensure that the colors stay vibrant and true over time, preserving the beauty of the artwork for years to come. This ensures that your piece remains a cherished source of inspiration and positivity.
Installing this wood print hanging is hassle-free, thanks to the included hanging hardware or attachment options. Simply hang it on a hook or nail of your choice, and let the colorful and uplifting design brighten up your space.
Embrace the power of self-love and positivity with our "Be Your Own Reason To Smile" Wood Print Colorful Wall or Door Hanging. Let it be a daily reminder to prioritize your happiness, find reasons to smile, and embrace the joy that comes from within.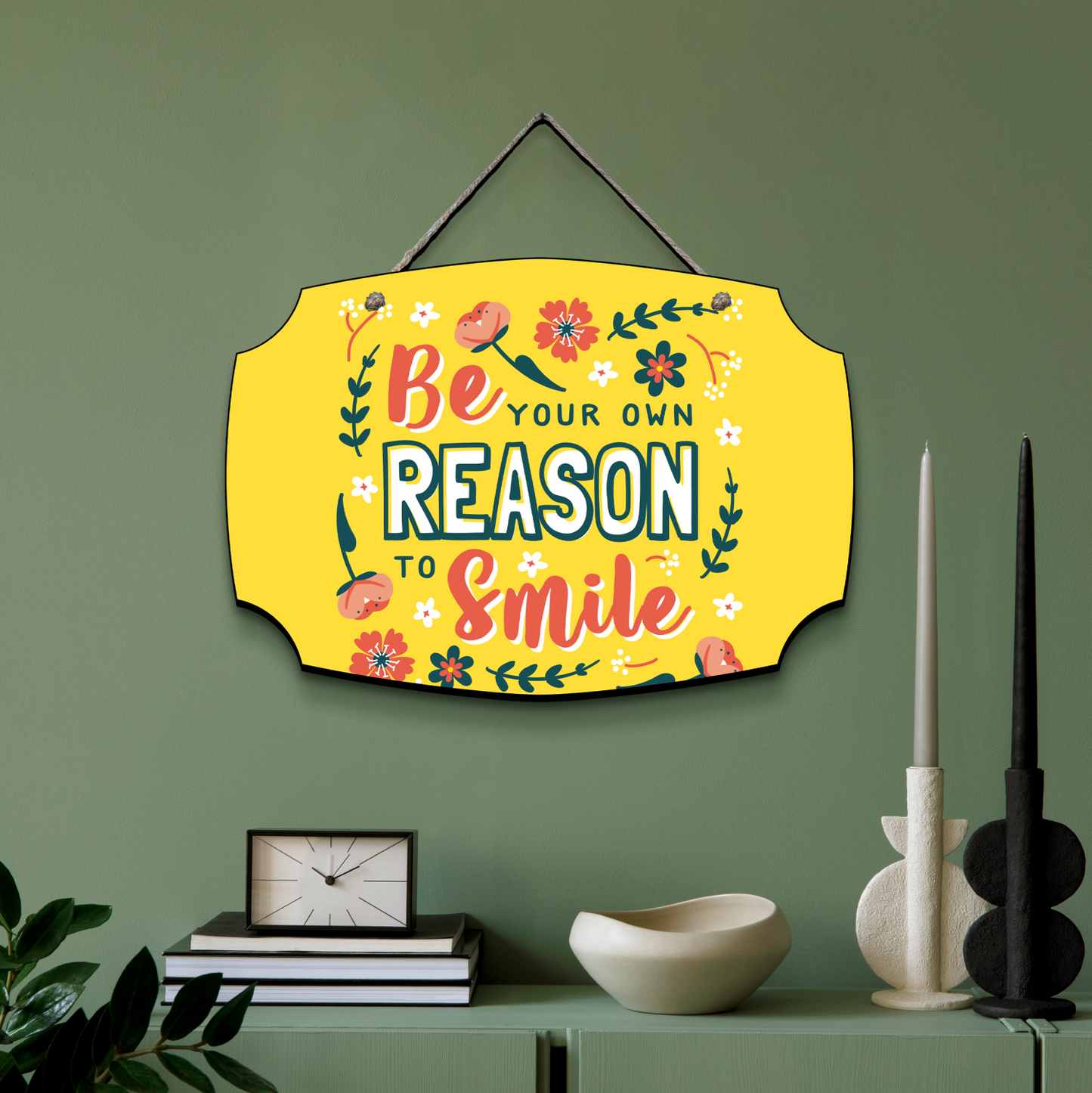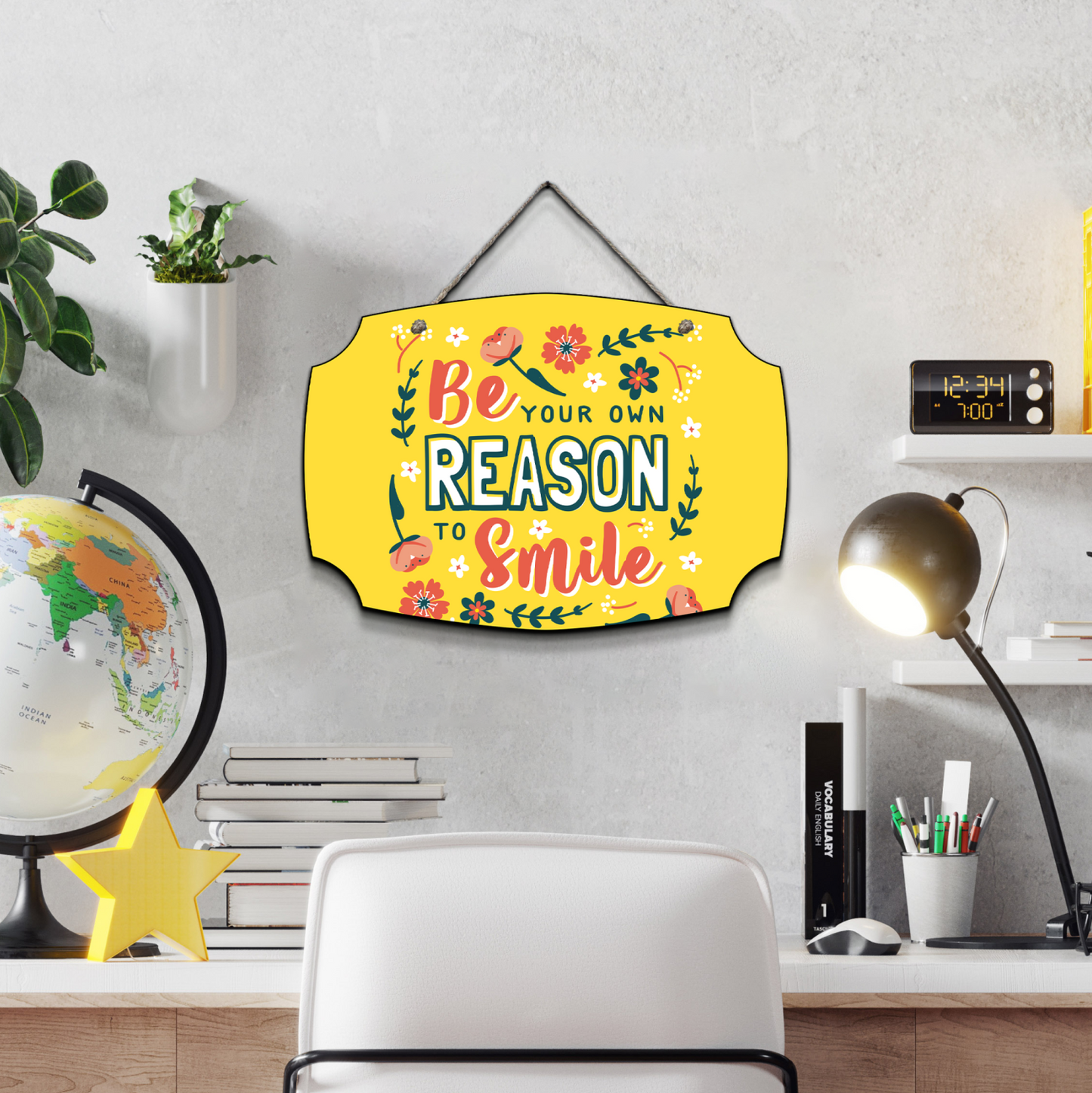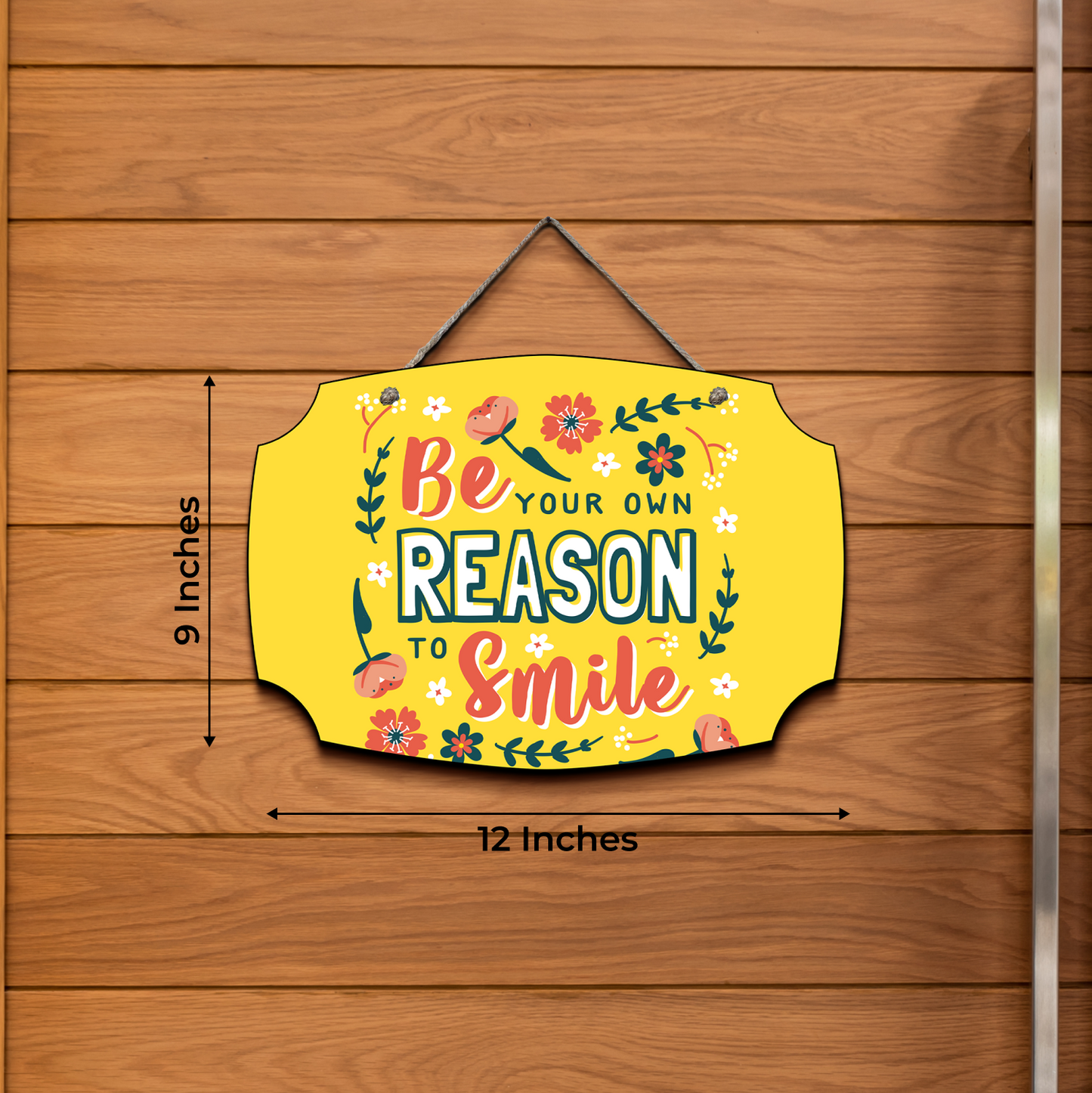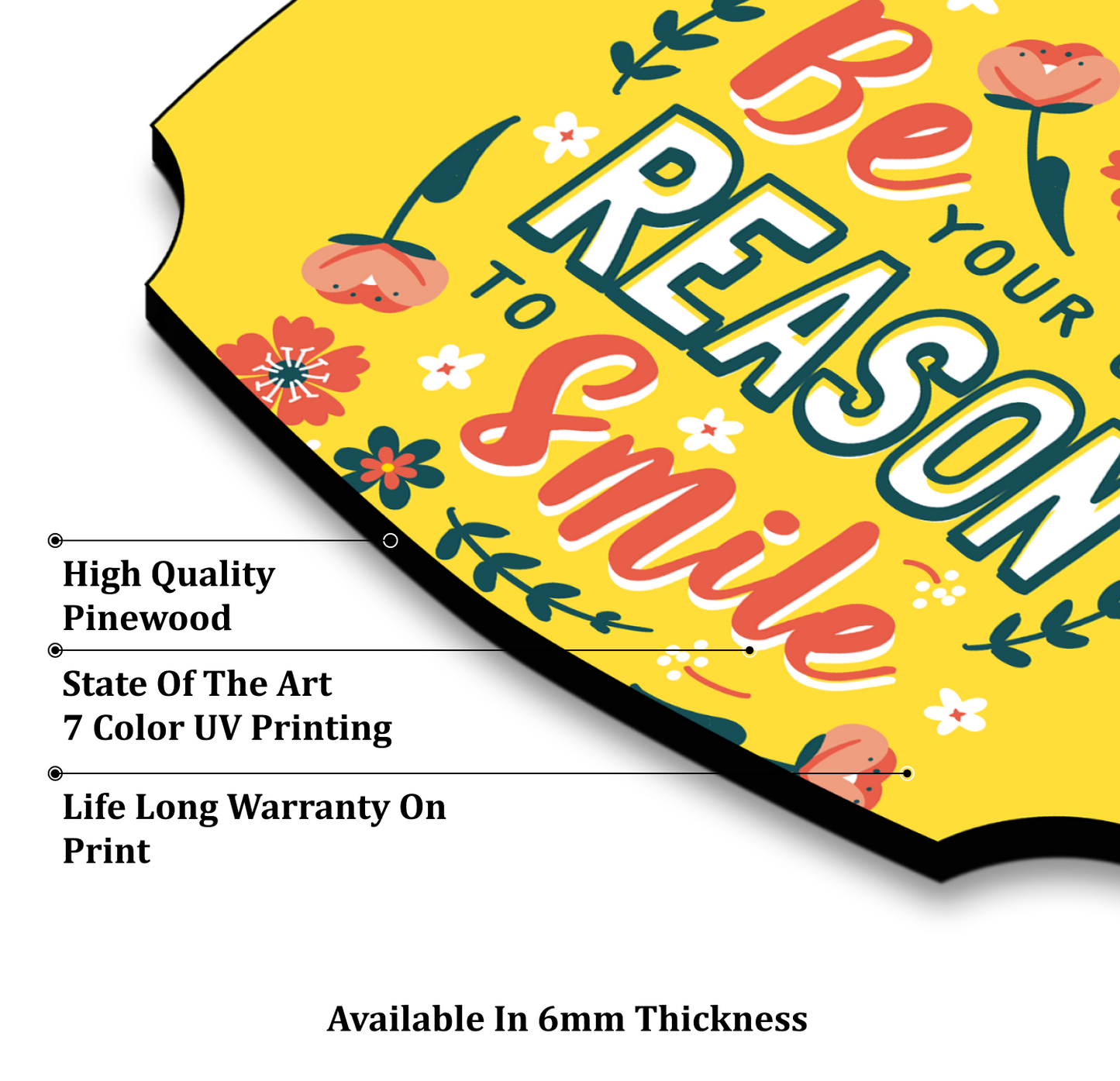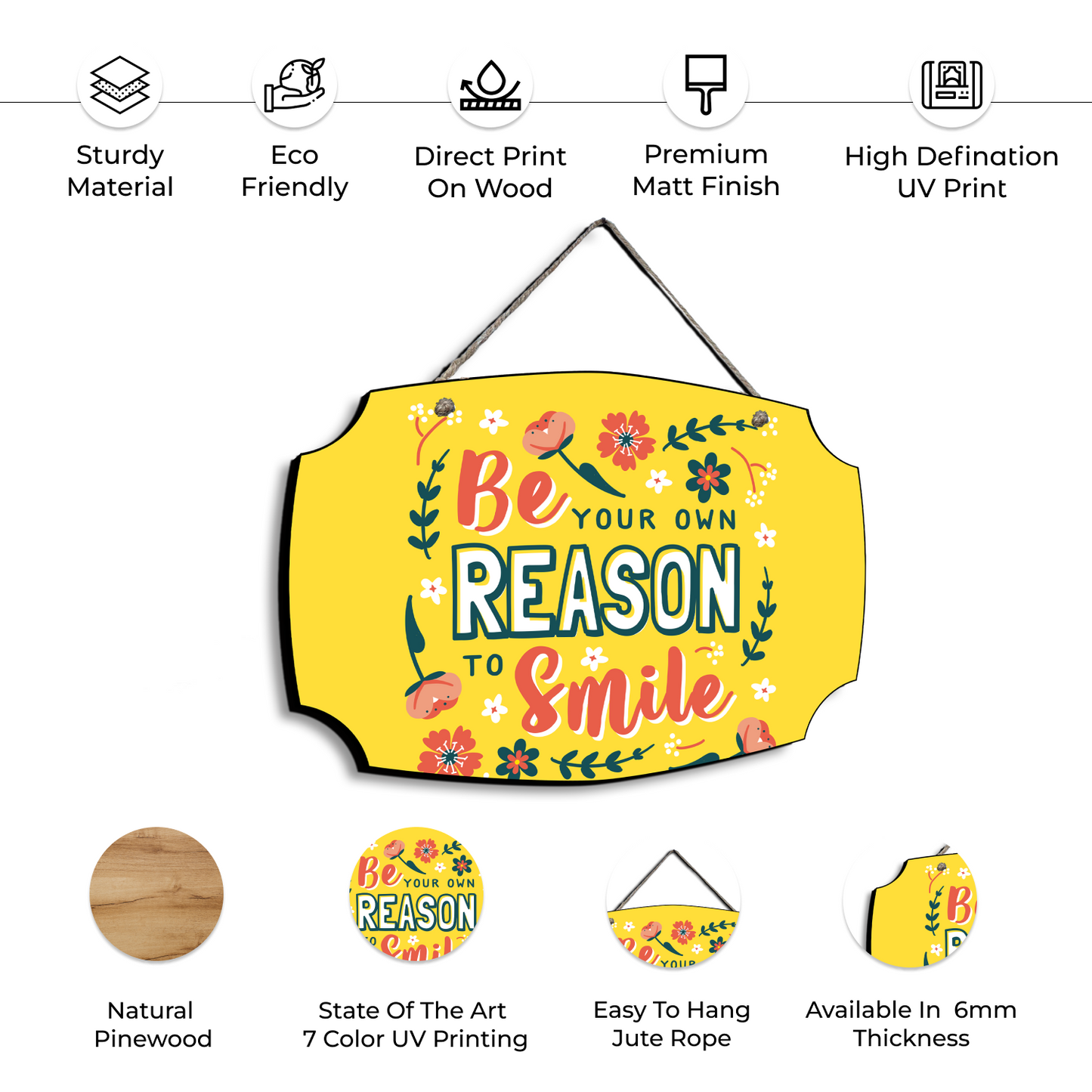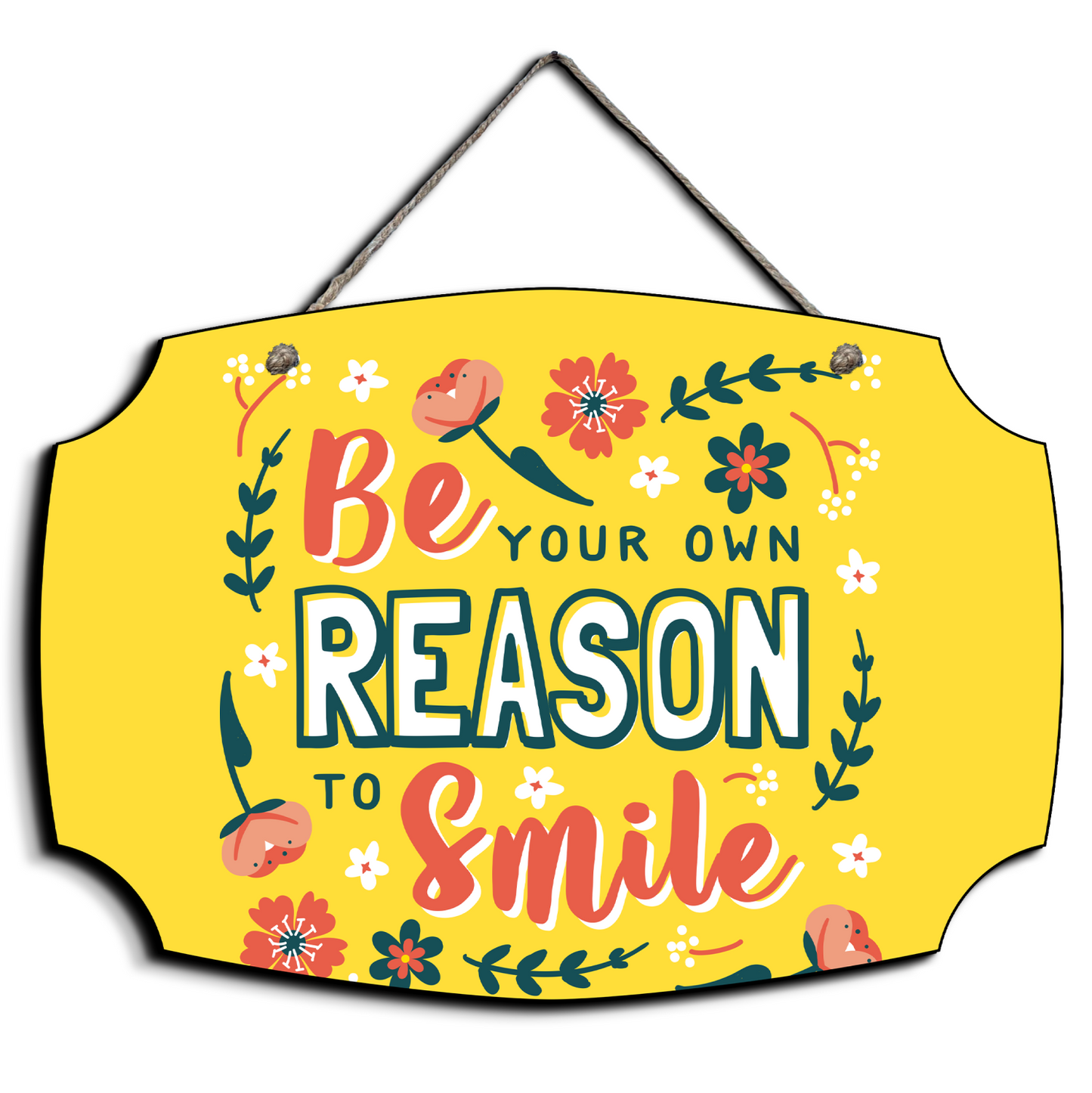 Empowering Women While Creating Unconvincing Arts
Frequently Asked Questions
✨How many days does it take to deliver the product?
We take 3-4 business days to deliver normally, from the day of placing the order, depending on your location.
✨How can I track my order?
Once the order is shipped, we will provide you a tracking link on your email address for you to track the movement of your order.
✨How can I get in touch with customer service if required?
The customer service team is here to help you. You can reach us on WhatsApp at +91 73077 66882. We will address your queries at the earliest.
✨How can I return the product?
A return is eligible in the event that the product is received damaged, which is highly unlikely since the packages go through rigorous checks. In case you do receive damaged/wrong products, please reach out to the customer service team, who will assist you on priority.
✨How can I get a refund on my order?
Refunds are only applicable on pre-paid orders, after your return order has been received and inspected. Once a refund is authorised, the amount will be credited back to your original method of payment within 3-5 days.
✨Do you offer gift wrap?
Yes, We do. After placing the order with us. Please leave a whatsapp message starting with gift wrap request order id XXXXX at +91 73077 66882.
Love We Received From You...