The Internet Sensation Dinner Party With 104 Famous Personalities Wood Print Wooden Wall Tiles Set
Share
Regular price
Rs. 4,999.00
Regular price
Rs. 6,999.00
Sale price
Rs. 4,999.00
Unit price
per
Sale
Sold out
Sale is Live! Pay Now and Save More
👉 Buy 1 item and get 10% OFF! 🤑
👉 Buy 2 items and enjoy 15% OFF! 🤩
👉 Buy 3 items and get a whopping 20% OFF! 😱
👉 But wait, there's more! Buy 4 items or more and receive a massive 25% OFF! 🎁
✨ No Coupon Code Required! 🤗
Limited Edition
Made in India
Cover The Large Area
10 Minutes Easy to Install
Each Tile is 11.5 X 11.5 Inches and 5mm Thick

Dustproof, Waterproof and Scratchproof

Comes with peel and paste world's best double-sided tape.

Please Keep a 5mm Gap Between Each Tile To Complete The Size

Ideal For Living Room, Office, Study Room, Waiting Area, Cafe, Hotel, Restaurant, Clinic, Hospital, School, College and Library
1. Bill Gates, Microsoft Founder
2. Homer, Greek Poet
3. Cui Jian, Chinese Singer
4. Vladimir Lenin, Russian Revolutionary
5. Pavel Korchagin, Russian Artist
6. Bill Clinton, Former U.S. President
7. Peter The Great, Russian Leader
8. Margaret Thatcher
9. Bruce Lee, Martial Arts Actor
10. Winston Churchill
11. Henri Matisse, French Artist
12. Genghis Khan, Mongolian Warlord
13. Napoleon Bonaparte, French Military Leader
14. Che Guevara, Marxist Revolutionary
15. Fidel Castro, Former Cuban Leader
16. Marlon Brando, Actor
17. Yasser Arafat, Former Palestinian Leader
18. Julius Caesar, Roman Emperor
19. Gen. Claire Lee Chennault, WW II U.S. Aviator
20. Luciano Pavarotti, Singer
21. George W. Bush, Former U.S. President
22. The Prince Of Wales
23. Liu Xiang, Chinese Olympic Hurdler
24. Kofi Annan, Former UN Secretary-General
25. Zhang An, The Painter
26. Mikhail Gorbachev, Former Russian Leader
27. Li Tiezi, The Painter
28. Dante Alighieri, Florentine Poet
29. Dai Dudu, The Painter
30. Pele, Brazilian Footballer
31. Guan Yu, Chinese Warlord
32. Ramses II, Egyptian Pharaoh
33. Charles De Gaulle, French General
34. Albert Nobel, Swedish Chemist Who Founded The Nobel Prizes
35. Franklin Roosevelt, Former U.S. President
36. Ernest Hemingway, American Novelist
37. Elvis Presley, American Singer
38. Robert Oppenheimer, U.S. Physicist
39. William Shakespeare, Playwright
40. Wolfgang Amadeus Mozart, Composer
41. Steven Spielberg, U.S. Film Director
42. Pablo Picasso, Spanish Painter
43. Marie Curie, Physicist And Pioneer Of Radioactivity
44. Zhou Enlai, First Premier Of The People's Republic Of China
45. Johann Wolfgang Von Goethe, German Writer
46. Laozi, Chinese Philosopher
47. Marilyn Monroe, American Actress
48. Salvador Dali, Spanish Painter
49. Dowager Cixi, Former Ruler Of China
50. Ariel Sharon, Former Israeli Prime Minister
51. Qi Baishi, Chinese Painter
52. Qin Shi Huang, Former Chinese Emperor
53. Mother Teresa, Roman Catholic Missionary
54. Song Qingling, Chinese Politician
55. Rabindranath Tagore, Indian Poet
56. Otto Von Bismarck, German Statesman
57. Run Run Shaw, Chinese Media Mogul
58. Jean-Jacques Rousseau, Swiss Philosopher
59. Audrey Hepburn, Actress
60. Ludwig Van Beethoven, German Composer
61. Adolf Hitler, Nazi Leader
62. Benito Mussolini, Italian Fascist Leader
63. Saddam Hussein, Former Iraq President
64. Maxim Gorky, Russian Writer
65. Sun Yat-Sen, Chinese Revolutionary
66. Den Xiaoping, Chinese Revolutionary
67. Alexander Pushkin, Russian Author
68. Lu Xun, Chinese Writer
69. Joseph Stalin, Former Soviet Union Leader
70. Leonardo Da Vinci, Italian Painter
71. Karl Marx, German Philosopher
72. Friedrich Nietzsche, German Philosopher
73. Abraham Lincoln, Former U.S. President
74. Mao Zedong, Chinese Dictator
75. Charlie Chaplin, British Actor
76. Henry Ford, Founder Of Ford Motor Company
77. Lei Feng, Chinese Soldier
78. Norman Bethune, Canadian Physician
79. Sigmund Freud, Austrian Psychiatrist
80. Juan Antonio Samaranch, Former International Olympic Committee President
81. Chiang Kai Shek, Chinese General
82. Queen Elizabeth II, Queen of the United Kingdom
83. Leo Tolstoy, Russian Novelist
84. Li Bai, Chinese Poet
85. Corneliu Baba, Romanian Painter
86. Auguste Rodin, French Artist
87. Dwight Eisenhower, Former U.S. President
88. Michael Jordan, U.S. Basketball Player
89. Hideki Tojo, Former Japanese Prime Minister
90. Michelangelo, Italian Renaissance Painter
91. Yi Sun-Sin, Korean Naval Commander
92. Mike Tyson, American Boxer
93. Vladimir Putin, Russian Prime Minister
94. Hans Christian Andersen, Danish Author
95. Shirley Temple, American Actress
96. Albert Einstein, German Physicist
97. Moses, Hebrew Religious Leader
98. Confucius, Chinese Philosopher
99. Gandhi, Indian Spiritual Leader
100. Vincent Van Gogh, Dutch Painter
101. Toulouse Lautrec, French Painter
102. Marcel Duchamp, French Artist
103. Osama Bin Laden, Terrorist
104. Dolly, The First Cloned Sheep
Interesting Facts About The Painting
This extraordinary painting depicting 104 figures from world history in striking detail has become the latest internet hit.
Message boards have erupted with contests to identify all those featured, who range from instantly recognisable figures like Gandhi to some more obscure figures such as Liu Xiang, the Chinese hurdler who limped out of the Beijing Olympics in the summer.

An element of mystery also surrounds the origins of the picture, which appears to have drawn inspiration from Raphael's Renaissance fresco The School of Athens.

While the figures in Raphael's painting were all ancient philosophers, there appears little to connect the characters in the recent work which finds room for historical greats like Napoleon as well as Bill Gates, the bespectacled face of modern success.
This 104 Famous Personalities Wood Print Wooden Wall Tiles Set" – a captivating collection that brings together history, art, and inspiration in the most elegant way possible.
With 104 distinct personalities, you can embark on a journey through time and cultures, reliving the wisdom, courage, and ingenuity of these celebrated figures. Whether you're an avid history enthusiast, a culture connoisseur, or simply seeking to adorn your walls with meaningful art, this set offers an unparalleled and thought-provoking experience.
Each wooden tile comes ready to be displayed, equipped with an easy-to-mount system that ensures hassle-free installation. The tiles can be arranged in any desired pattern, allowing you to curate your very own gallery wall that resonates with your personality and style.
Whether you're a lover of literature, a science enthusiast, or a music aficionado, you'll find something to inspire you in this diverse collection. Discover the profound impact of Mahatma Gandhi, relish the artistic genius of Leonardo da Vinci, and ponder the philosophical insights of Aristotle – all within the comfort of your living space.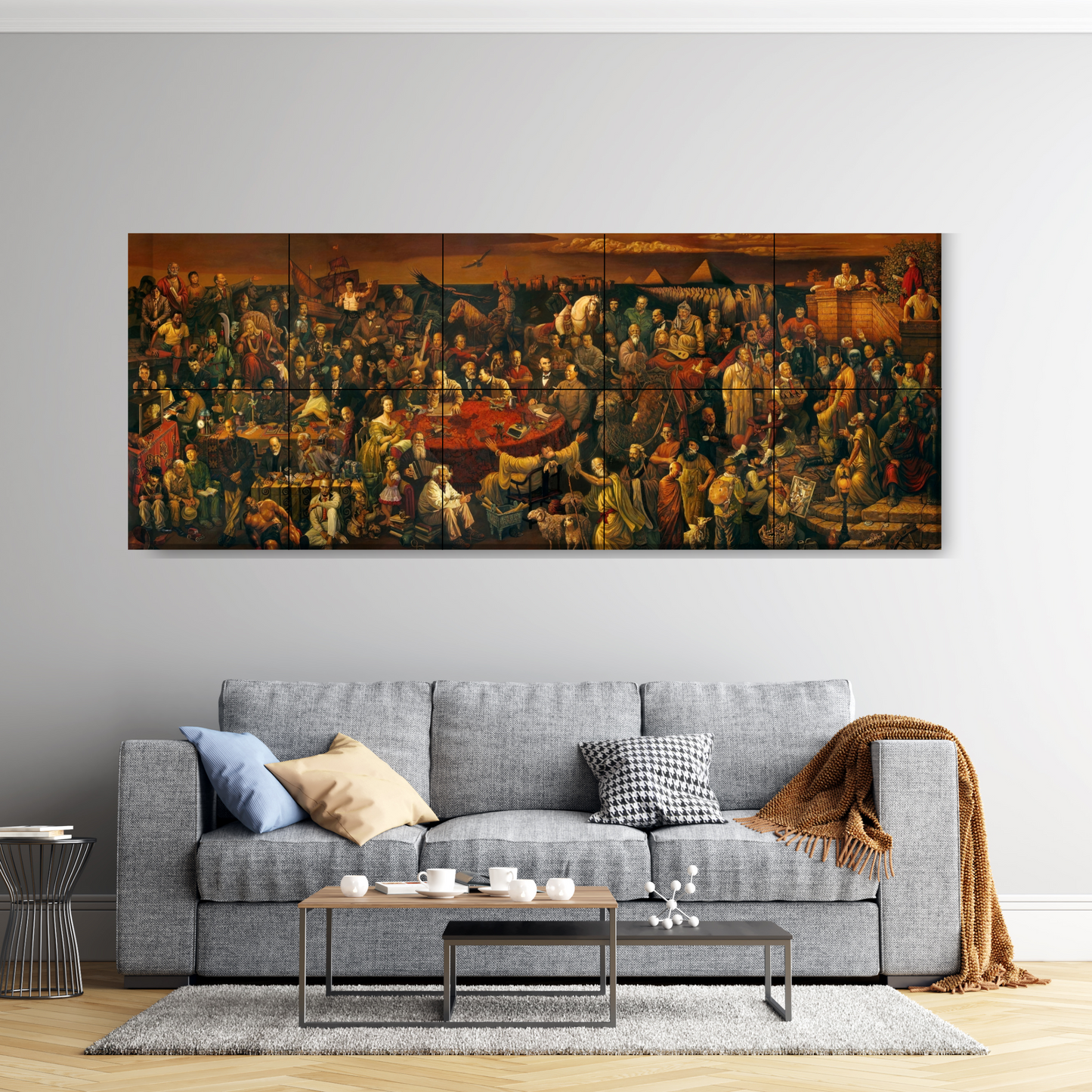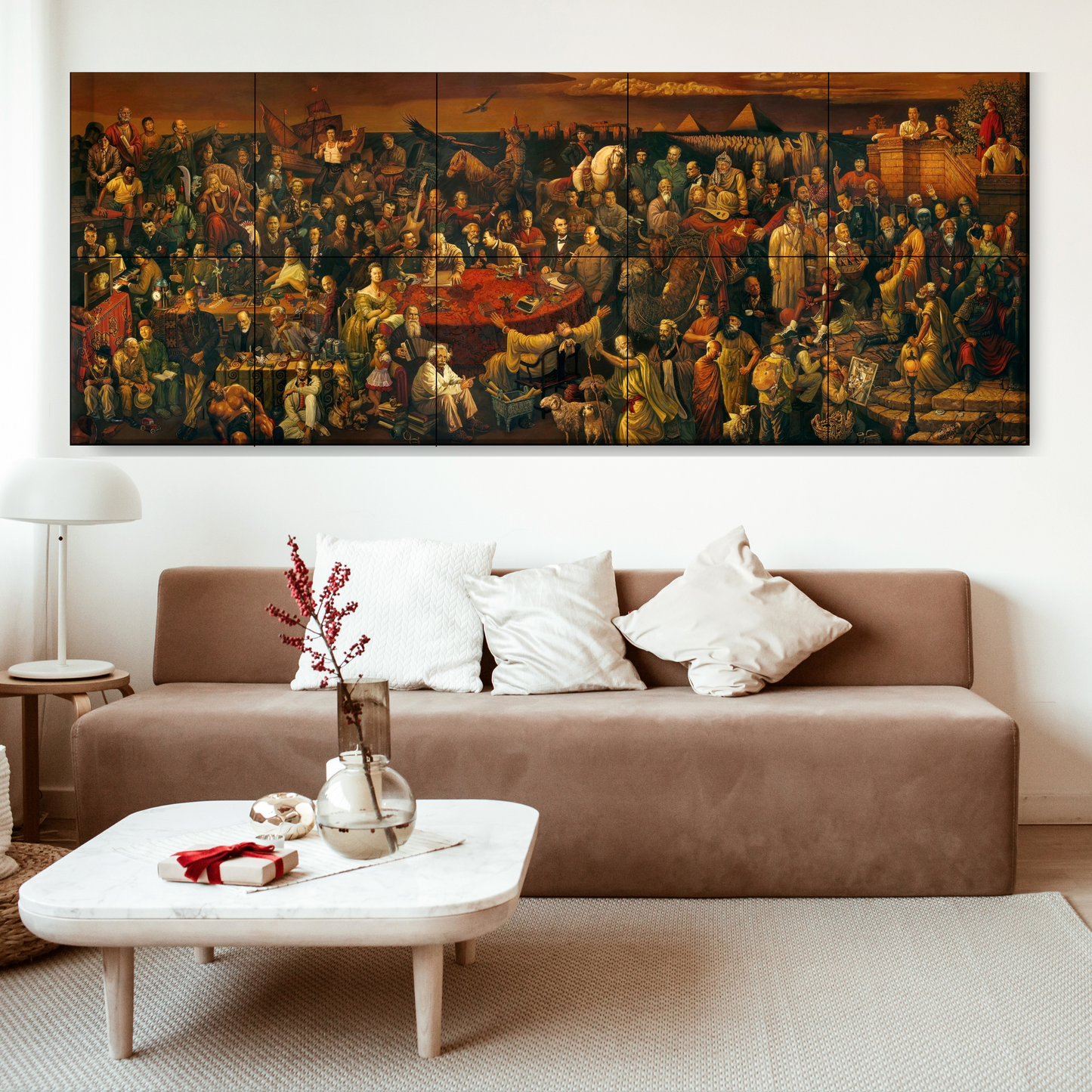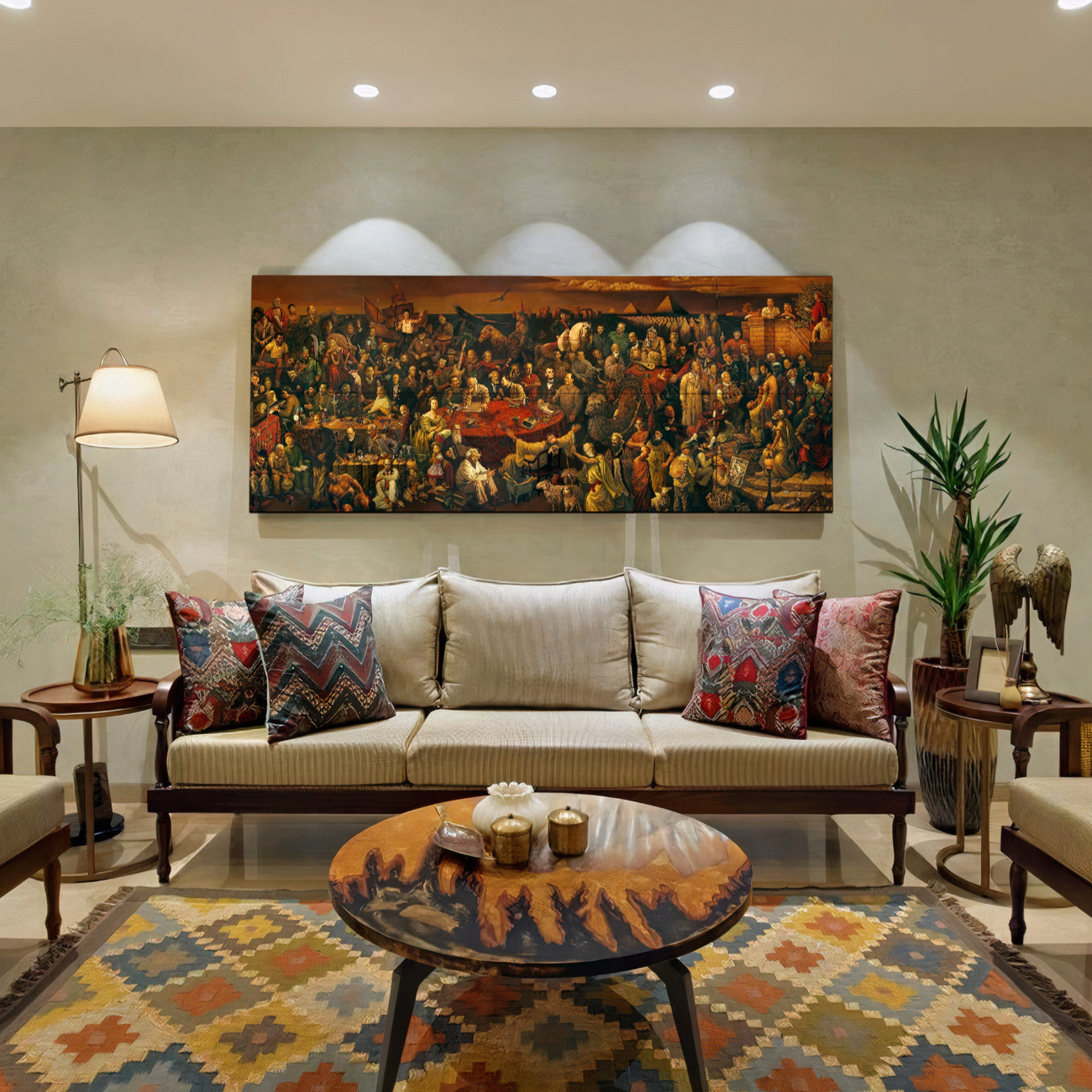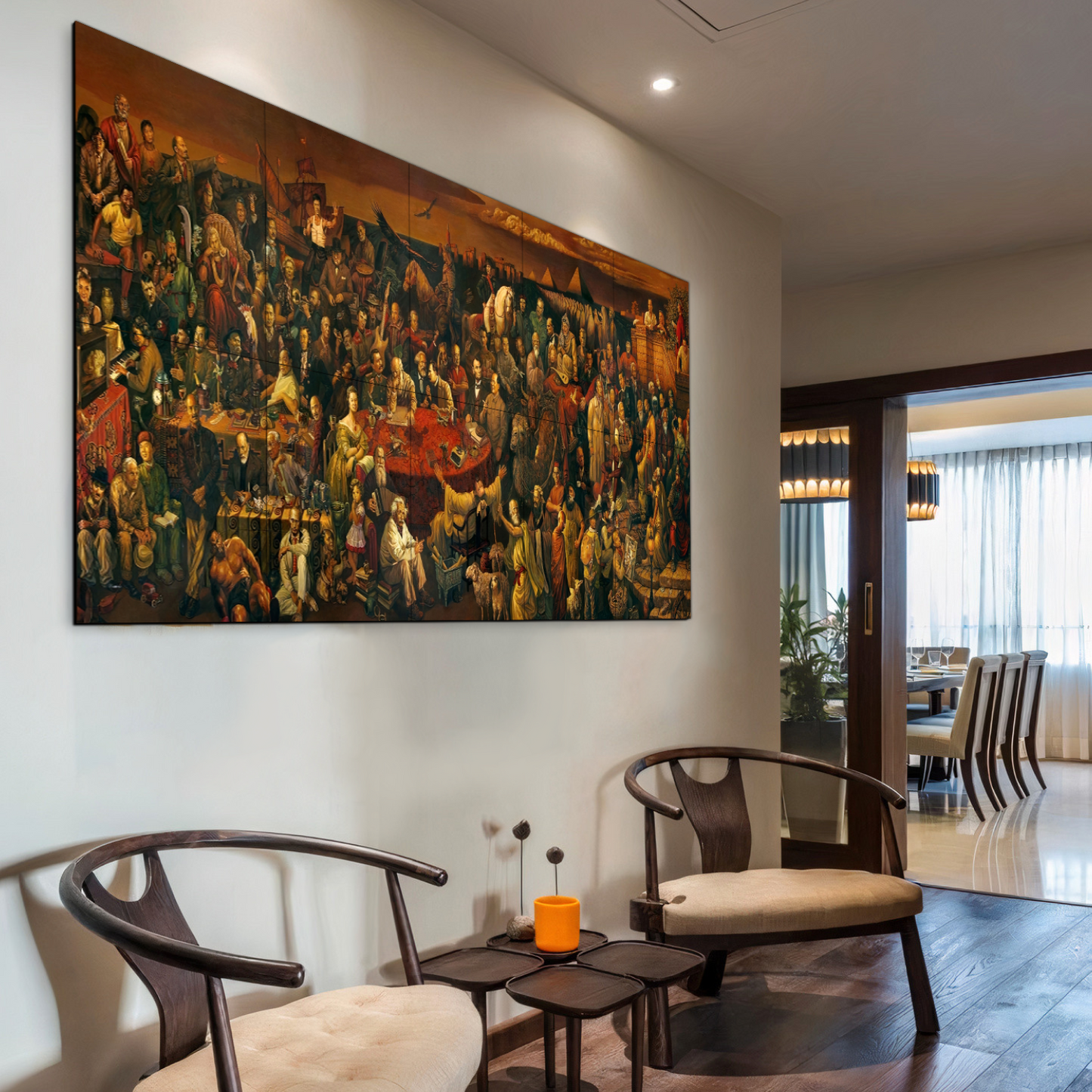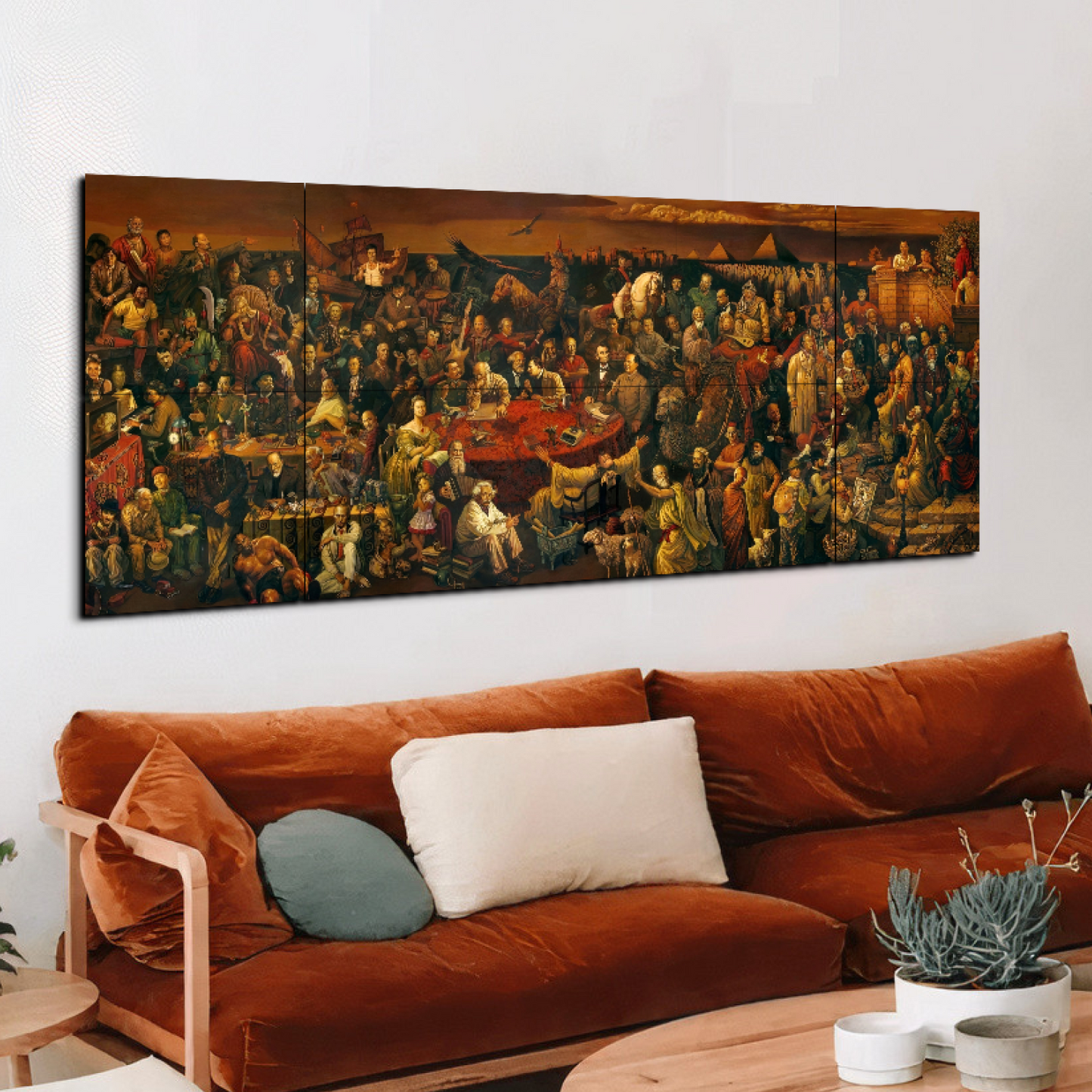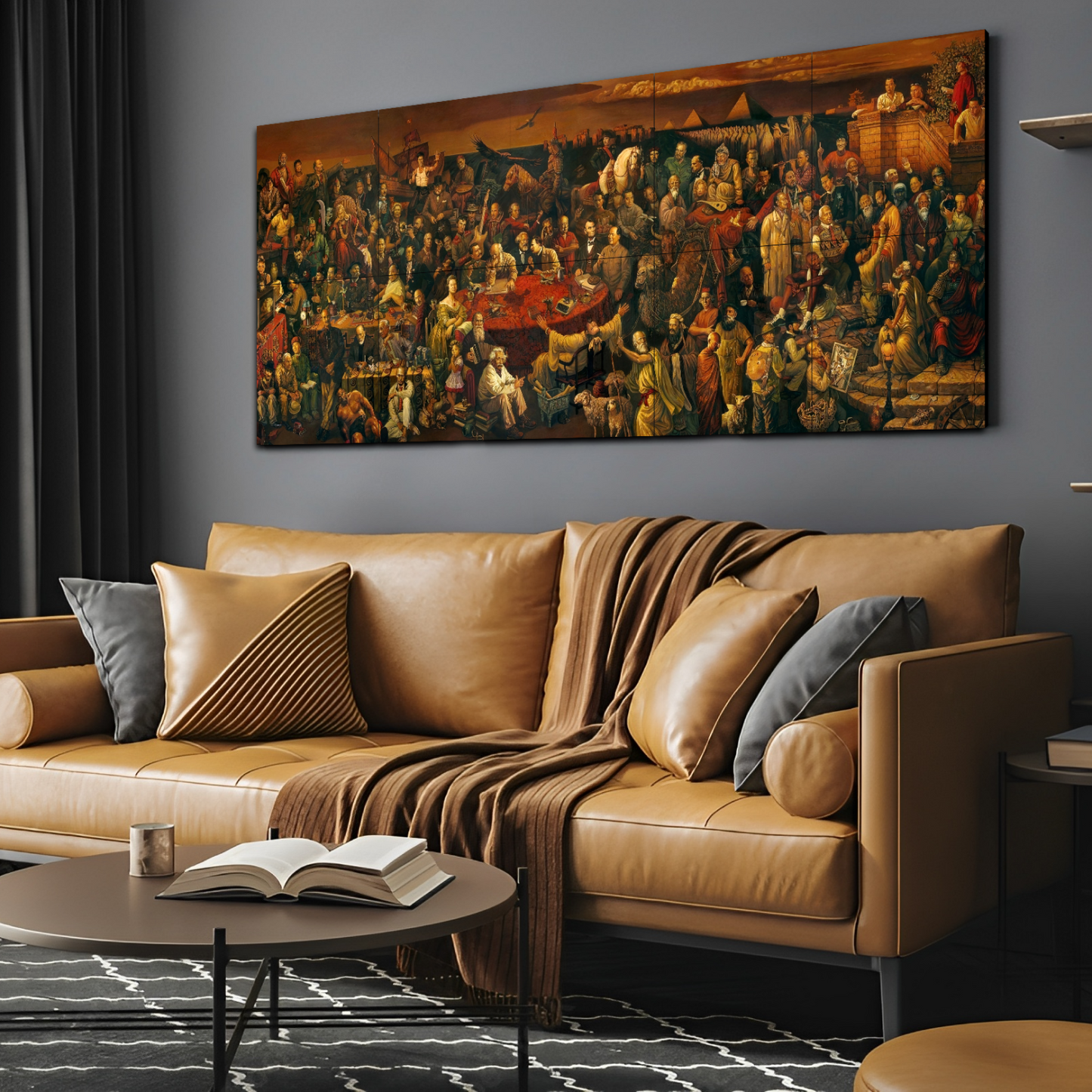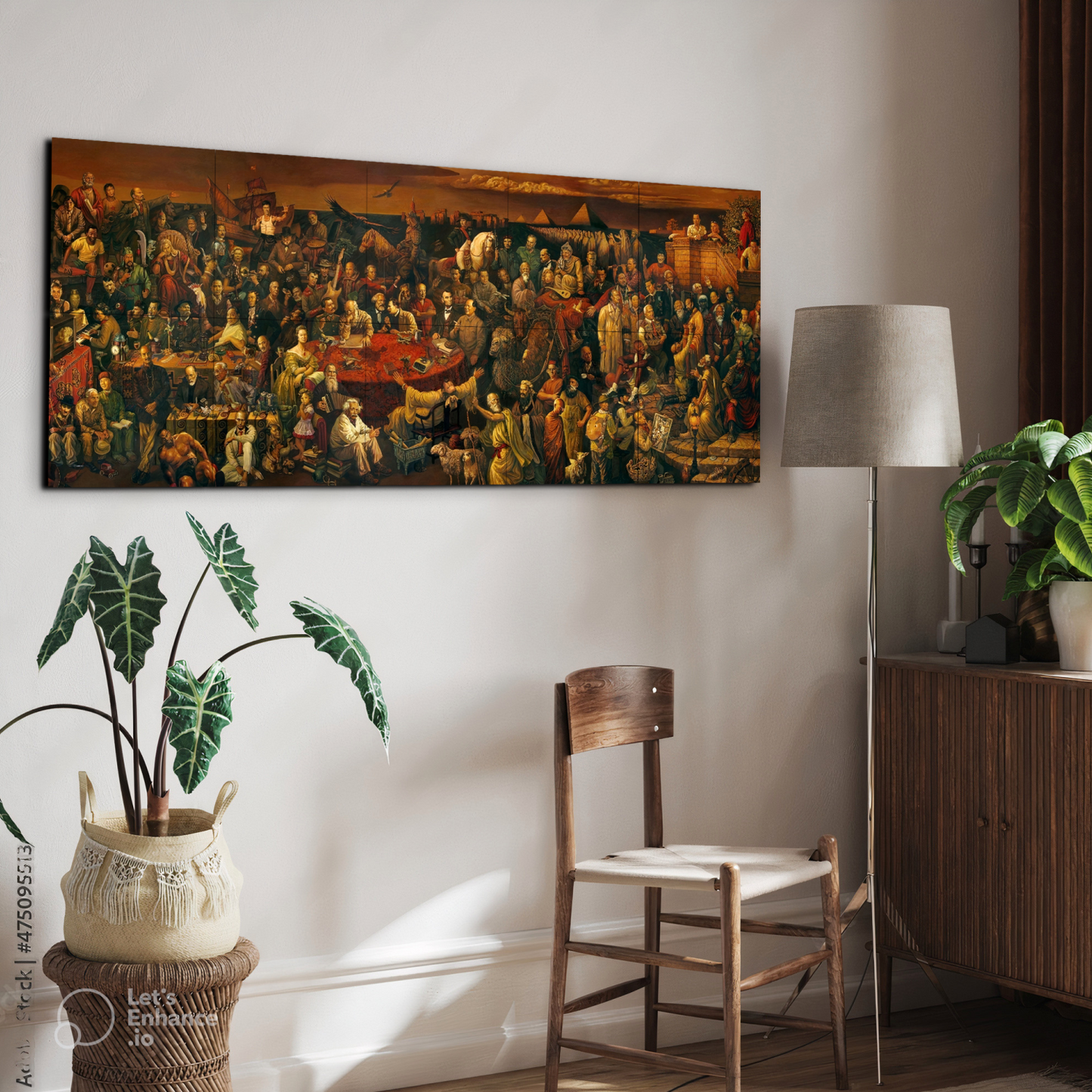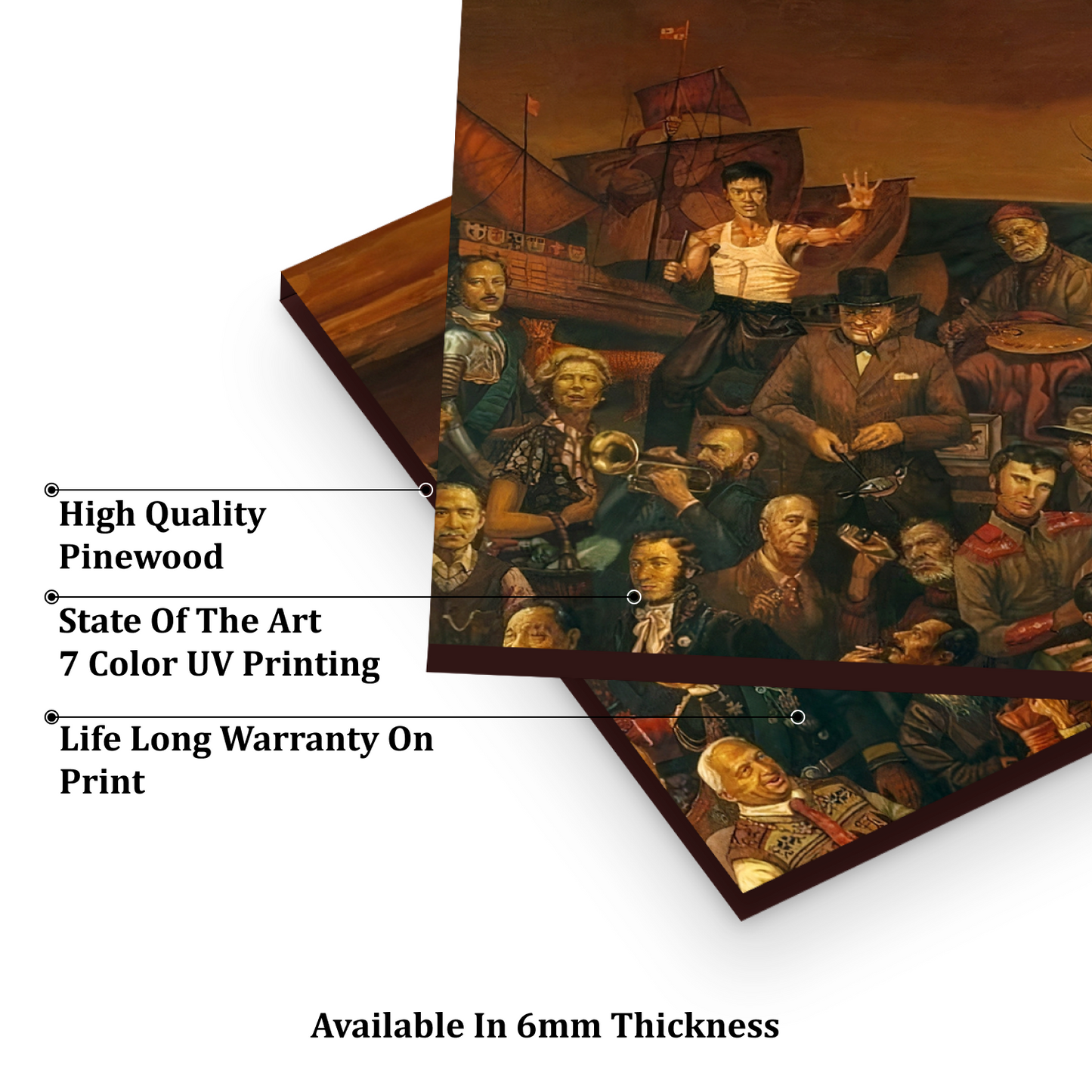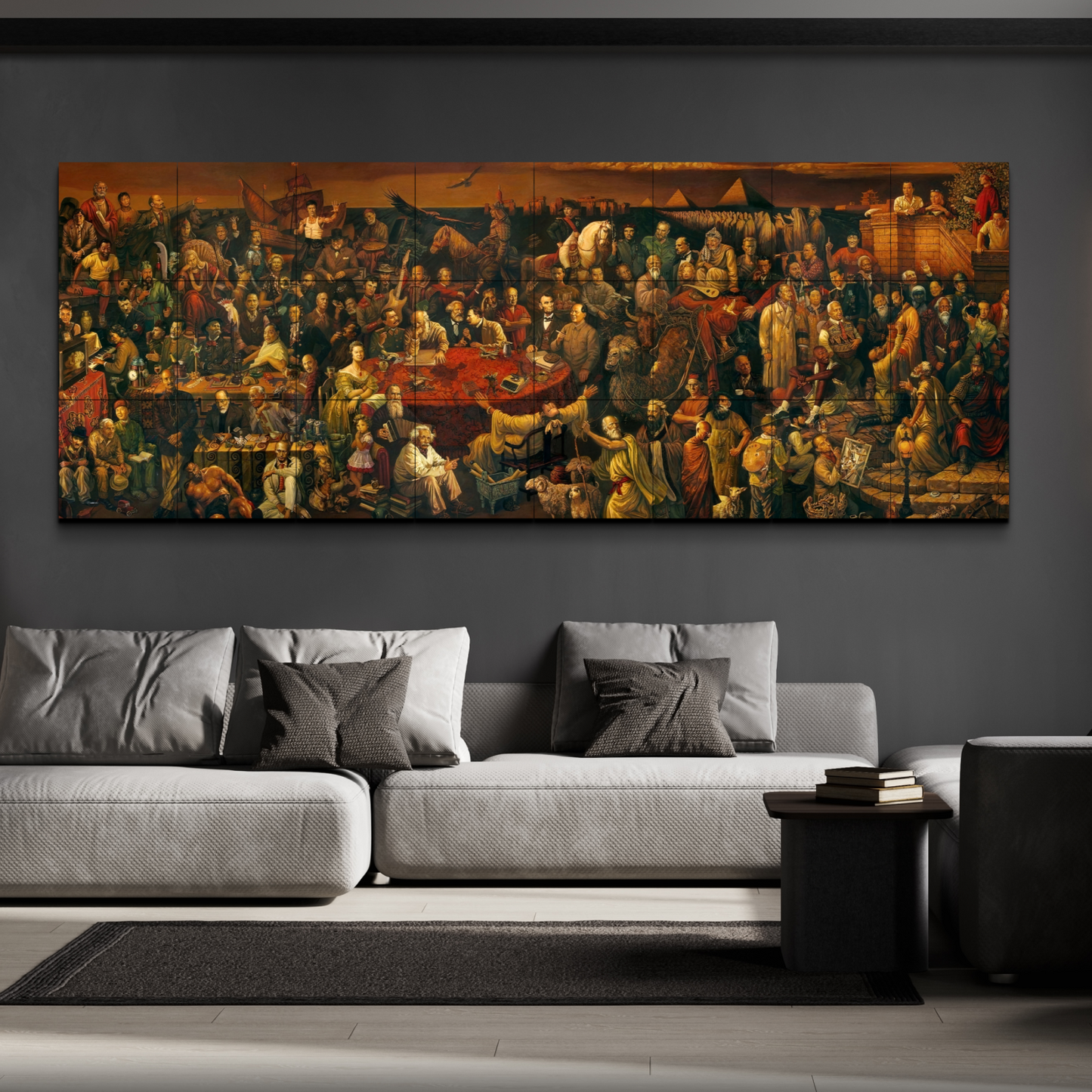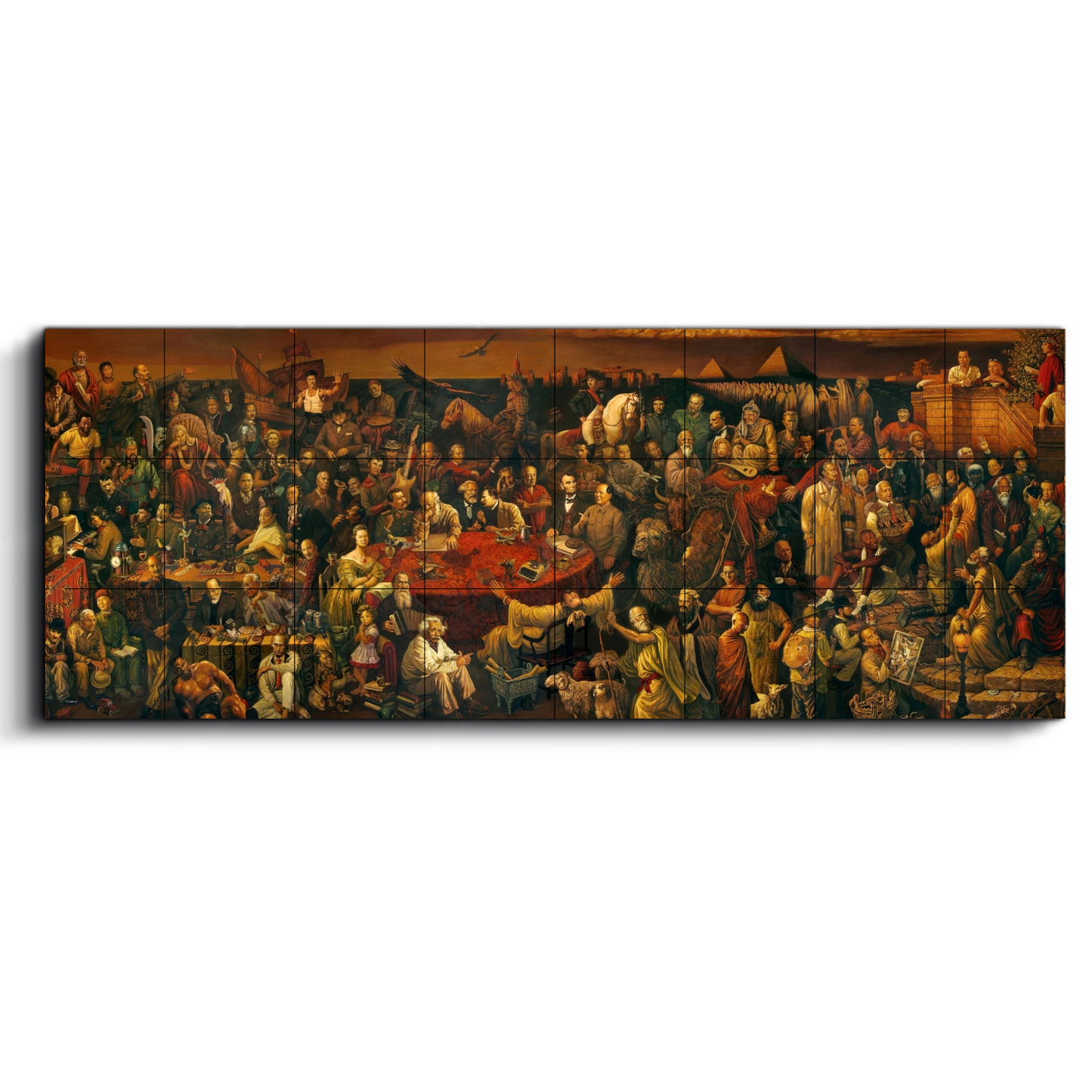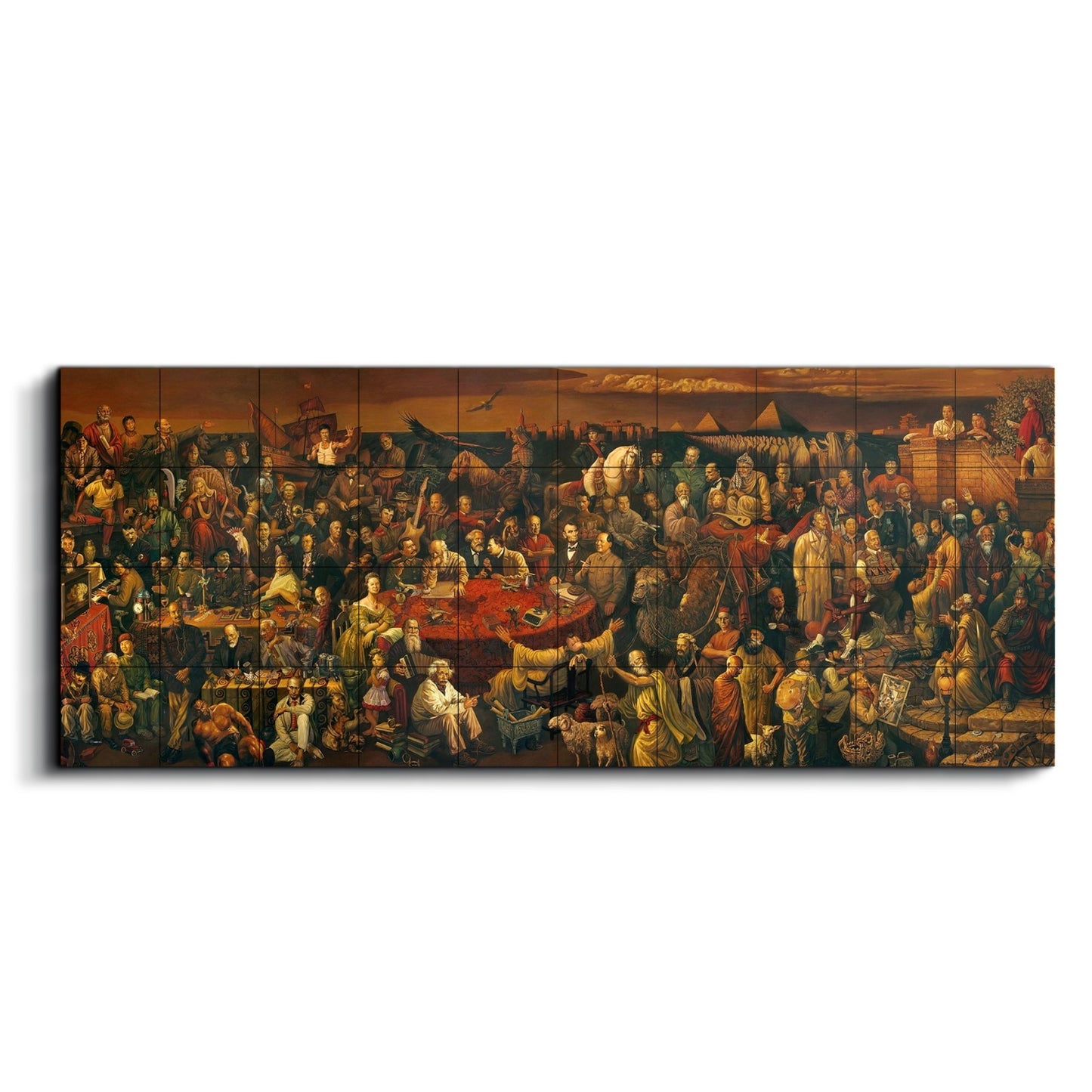 Empowering Women While Creating Unconvincing Arts
Frequently Asked Questions
✨How many days does it take to deliver the product?
We take 3-4 business days to deliver normally, from the day of placing the order, depending on your location.
✨How can I track my order?
Once the order is shipped, we will provide you a tracking link on your email address for you to track the movement of your order.
✨How can I get in touch with customer service if required?
The customer service team is here to help you. You can reach us on WhatsApp at +91 73077 66882. We will address your queries at the earliest.
✨How can I return the product?
A return is eligible in the event that the product is received damaged, which is highly unlikely since the packages go through rigorous checks. In case you do receive damaged/wrong products, please reach out to the customer service team, who will assist you on priority.
✨How can I get a refund on my order?
Refunds are only applicable on pre-paid orders, after your return order has been received and inspected. Once a refund is authorised, the amount will be credited back to your original method of payment within 3-5 days.
✨Do you offer gift wrap?
Yes, We do. After placing the order with us. Please leave a whatsapp message starting with gift wrap request order id XXXXX at +91 73077 66882.
Love We Received From You...